Easy Recipes
Easy 5-Ingredient Instant Pot Pork Roast – Made with Frozen Pork Butt
The best kind of Instant Pot recipe is undoubtedly the kind that is both quick and easy to make, while only requiring a handful of whole food ingredients. When you're feeling extra hungry, you just want to get to the good stuff, pronto. This easy 5-ingredient instant pot pork roast is perfect for those occasions. It's such a satisfying meal to make not just because of how simple it is though, but also because of how flavorful it is with just a few ingredients. Talk about a recipe that gives back in spades.

You'll Love This Incredible Pork Roast!
When it comes to making this specific recipe, you'll first need to grab a small bowl and combine ½ teaspoon each of garlic powder and onion powder, ¼ teaspoon of chili powder, ½ teaspoon of coarse black pepper, and a single teaspoon of salt to make your seasoning rub. Once you have everything mixed together, rub the seasoning over your pork roast.
You can then press the 'SAUTE' button on your instant pot, leaving it standing until the screen reads 'HOT'. Add in two tablespoons of your preferred type of cooking oil (I like to use extra virgin olive oil for the heart healthy monounsaturated fats) before adding in the pork roast. After taking the roast out, you can add in ½ cup of apple juice and one cup of water.
Next, press 'CANCEL' and then put the pork roast back into the instant pot. Seal the pot up, turn on the 'PRESSURE COOK' mode (making sure to check that the pressure level is set to 'high'), and adjust the timer according to the weight of your pork roast. Simply multiply the total number of pounds by 22 minutes.
Once your pork roast is done cooking in the instant pot, if you would like to crisp up the crust bit, you can simply broil it in the oven for 5-10 minutes, or until the crust turns brown and crispy.
Craving for Pork Roast with a Different Twist to It?
I love the sheer variety of different ways that I can quickly and easily make all of my favorite foods! If you're interested in trying out a few other kinds of instant pot pork roast recipes, then we've got you covered. Here are five of the very best pork roast recipes that you'll ever try from some of my favorite food blogs: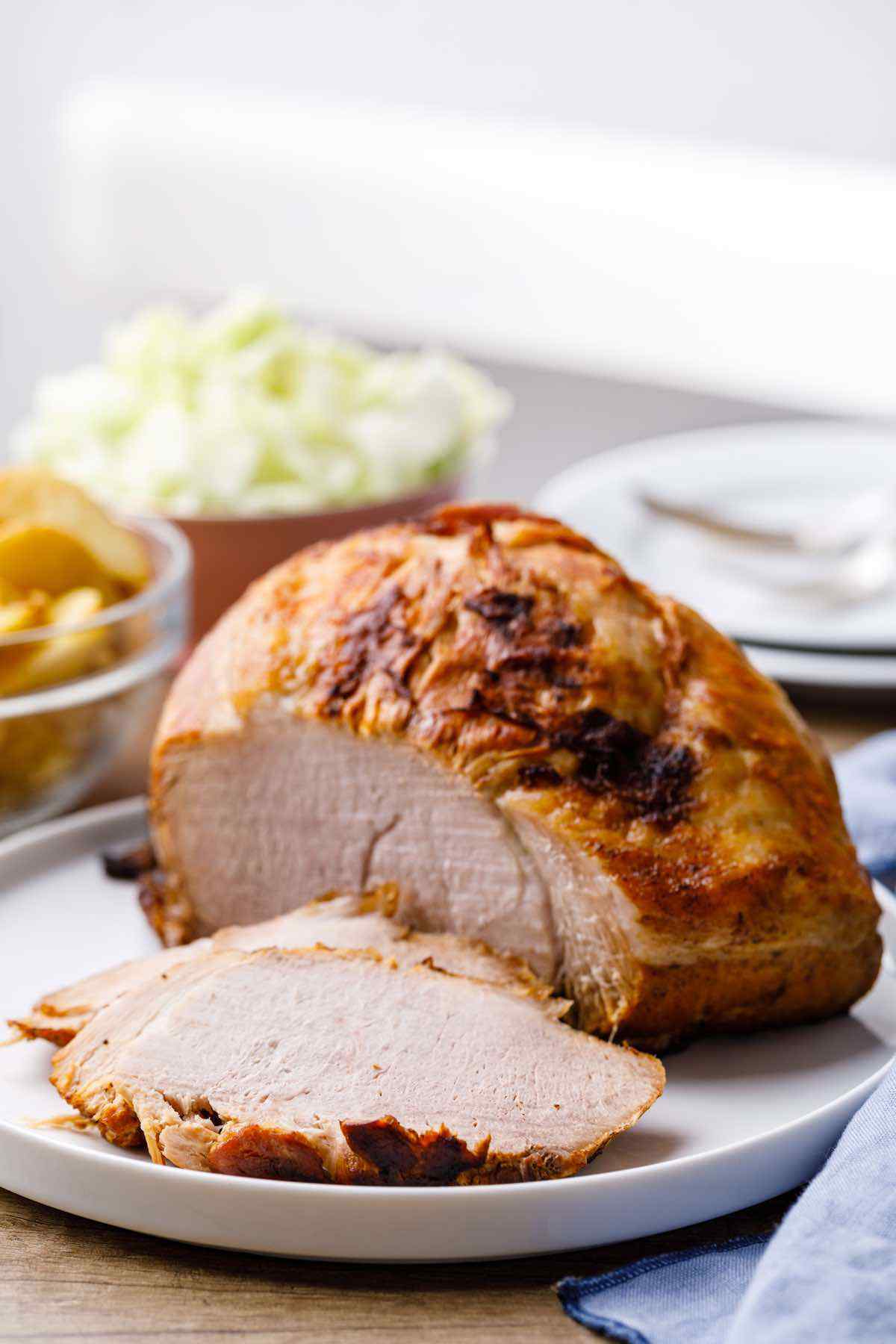 Would This Recipe Work with Beef?
You can definitely opt to use a frozen beef roast when making this recipe instead of the pork if you would prefer. The dry rub mix of garlic powder, onion powder, chili powder, black pepper, and salt works just as well when used with beef.
If you're more of a beef eater than a pork person, you're in luck!
Is This Instant Pot Pork Roast Keto and/or Paleo Friendly?
If you're following either the keto diet or the paleo diet for health reasons, then you'll be happy to know that this recipe is both 100% keto friendly and paleo friendly.
Just be mindful of what you serve along with your pork roast if you're following either one of these diets. You'll want to stick with low carb veggie side options, or you can even consider going with low carb substitutes like cauliflower rice.
Why Is My Pork Roast Tough?
If you follow this recipe exactly, you'll see that we call for using three pounds of frozen pork butt, which equals out to 66 minutes of cooking time. Once again, we use the formula of multiplying the total number of pounds by 22.
If your pork roast is coming out too tough instead of nearly falling apart on your fork, then you most likely just need to give the pork more time to cook in the instant pot. This will allow more time for the braise to break down connective tissues in the meat, making it more tender.
Easy 5-Ingredient Instant Pot Pork Roast – Made with Frozen Pork Butt
Author:
Prep Time:

5 minutes

Cook Time:

1 hour, 15 minutes

Total Time:

1 hour, 20 minutes

Yield:

8

1

x
Scale
3 pounds pork butt roast, frozen
½ tsp onion powder
½ tsp garlic powder
¼ tsp chili powder
½ cup apple juice
½ tsp coarse black pepper
1 tsp salt
1 cup water
2 tbsp oil
In a small bowl combine the onion powder, garlic powder, chili powder, black pepper and salt.
Rub the seasoning all over the pork roast.
Press the SAUTE button on the Instant Pot and let stand until screen reads "HOT".
Add the oil.
Add the roast and brown 2-3 minutes per side.
Remove the roast from the Instant Pot.
Add the water and apple juice and scrape the bottom of the pot with a wooden spoon to loosen the brown bits.
Press the CANCEL button.
Return the pork in the Instant pot.
Close and seal the Instant pot.
Turn the venting knob to SEALING.
Press the PRESSURE COOK button and check to make sure the pressure level shows as "High" in the display.
Adjust the timer to 66 minutes (see Note*).
When finished cooking, release pressure naturally according to manufacturer's directions.
Open the lid.
Remove the pork from the Instant pot.
To crisp up the crust, carefully place the pork on a baking sheet.
Broil in the oven for 5-10 minutes or until the crust is brown and crispy.
Remove from the oven.
Allow to rest for 10-15 minutes before slicing then slice and serve.
Notes
If your roast is smaller or larger, calculate the cooking time by multiplying the number of pounds by 22 minutes.
More Easy Pork Recipes You'll Love: