Easy Recipes
Family-Friendly Sheet Pan Paleo Chicken Dinner (Easy Recipe)
Each and every evening, I make it a point to get my two kids involved in the entire dinner making process. I get them to help with the ingredient prep work, with mixing everything together, and especially with the dishes! It's a great way to do something together as a family, and as an added bonus, it teaches them a lot about cooking at an early age — they definitely won't be leaving the house for college and living off TV dinners, that's for sure. One of my favorite meals to make with them lately is this recipe for making a kid-friendly one sheet paleo chicken dinner. It expertly combines juicy chicken breasts with a fantastic mix of veggies before adding a mouthwatering good homemade marinade that's simply to die for.
Wait Until You Try This Ridiculously Tasty Homemade Chicken Marinade
The first thing you'll need to do when making this recipe is prepare the homemade marinade. I usually let me kids help out with this part because it's a simple matter of mixing together all of the ingredients into a small bowl. You'll be using ¼ cup of olive oil and combining it with four cloves of garlic, juice from a freshly squeezed lime, chopped parsley and chives, and some salt and pepper for seasoning.
You can also optionally add in ¼ teaspoon of red pepper flakes if you'd like to give the marinade a little bit more kick. Not only is this marinade mixture incredibly flavorful, but it's also quite good for you as well — numerous studies have shown that culinary herbs and spices like those used to make the marinade are packed full of antioxidants that may help to prevent diseases like cancer. (1)
In a separate bowl, go ahead and add all of your chicken breast pieces in with the broccoli florets, zucchini, onion, bell pepper, and cherry tomatoes. Talk about a healthy dinner mix! This combination of chicken and veggies provides you with a ton of protein, vitamins, minerals, and phytonutrients — everything you could hope for in a healthy family dinner. You can then add your marinade mixture and toss everything until it's coasted.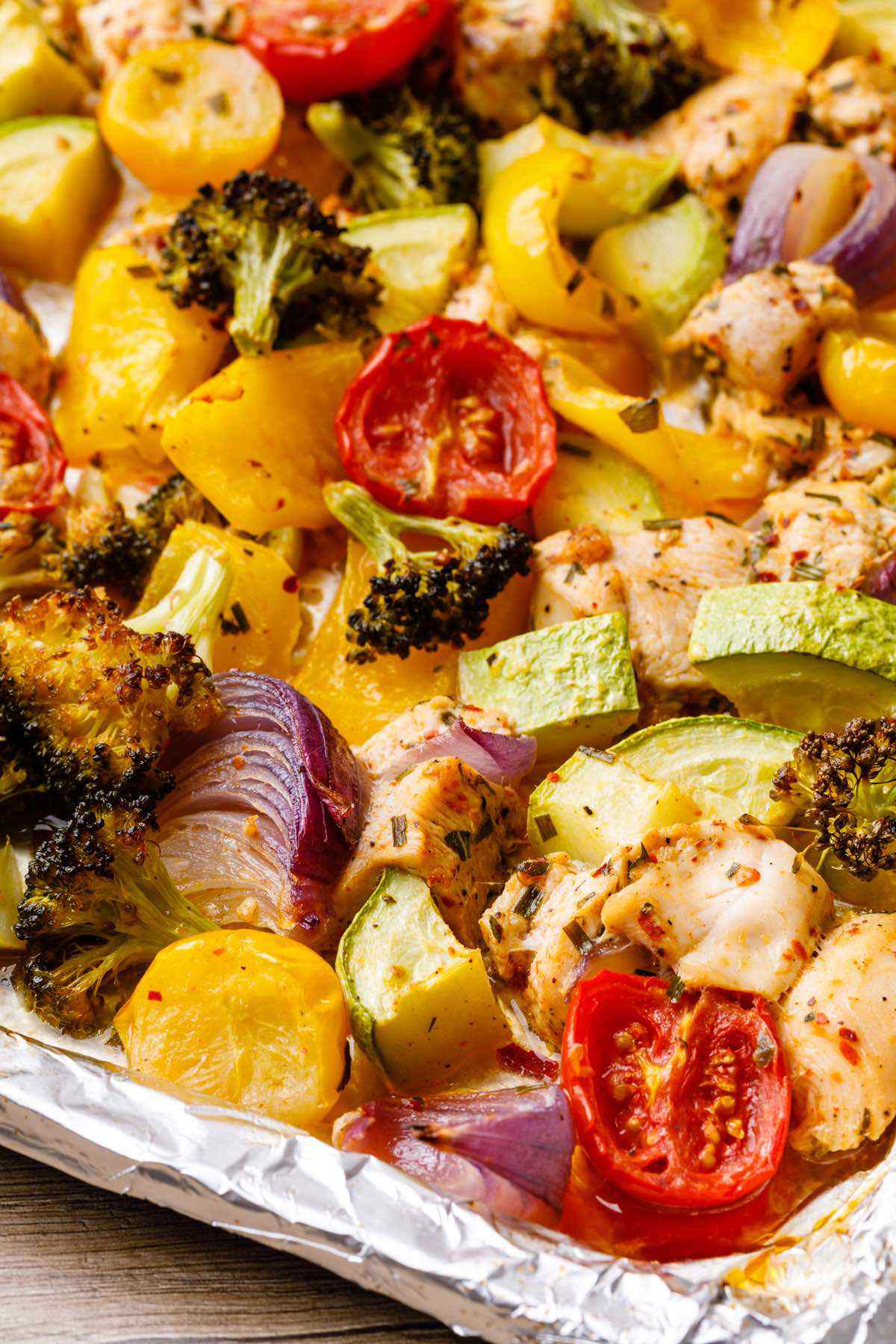 Even if your kids are picky eaters who aren't usually crazy about eating their vegetables, they'll have to admit that the veggie mix in this recipe is pretty tasty when combined with the homemade marinade. It's a good thing too, considering that the vegetables used in this recipe are all incredibly nutrient-dense.
The fact that you use two healthy greens like broccoli and zucchini is also definitely one of my favorite things about making this chicken dinner. Broccoli is full of essential nutrients and studies have found that it contains some rather impressive antioxidant and anticancer activities. (2) Zucchini is similar in that contains numerous distinctive components that help to combat the cellular damage caused by harmful free radicals. (3) What this all means is that both broccoli and zucchini are literal superfoods that we should all be eating more of!
After coating everything in the marinade, you can arrange your chicken and veggies in a single layer on your prepared baking sheet. You'll want to bake them for about 30 minutes, making sure that everything is cooked through.
And while a meal consisting of chicken and veggies coated in a yummy marinade is satisfying enough on its own, I usually like to serve it along with some homemade paleo bread or cauliflower 'rice'. Either way, I'm certain that you and your family will absolutely love this chicken dinner!
Family-Friendly Sheet Pan Paleo Chicken Dinner
Author: MissWish.com
Prep Time:

10 minutes

Cook Time:

25 minutes

Total Time:

35 minutes

Yield:

6

1

x
Scale
1 ½ pounds boneless skinless chicken breasts cut into 1-inch pieces
2 cups broccoli florets
1 large zucchini, halved and cut into 1-inch pieces
1 large red onion, cut into wedges
1 yellow bell pepper, cut into 1-inch pieces
1 cup cherry tomatoes (mixed colors), halved
For the marinade:
¼ cup olive oil
4 cloves garlic crushed or finely chopped,
2 tbsp chopped fresh parsley
2 tbsp chopped fresh chive
¼ tsp red pepper flakes (optional)
½ lime, juiced
salt and ground black pepper, to taste
Preheat oven to 450°F.
Line a large baking sheet with aluminum foil. Set aside.
To make the marinade, place all the ingredients in a small bowl and mix to combine.
Season to taste with salt and black pepper.
In a large bowl place the broccoli, zucchini, onion, bell pepper, cherry tomatoes and chicken.
Add the marinade and toss to coat.
Place the chicken and veggies in a single layer onto the prepared baking sheet.
Bake in preheated oven for 25-30 minutes or until the chicken and veggies are cooked through.
Serve with paleo bread or cauliflower rice.