Natural Beauty Recipes
Hydrating Turmeric DIY Face Mask (Egg Yolk, Honey, Olive Oil)
A traditional Ayurvedic medicine stable, the anti-inflammatory and antioxidant properties of turmeric recommends it for both internal and external use, especially in face masks and scrubs. This mask combines the nutritional powers of turmeric, egg yolk, and honey, to create a hydrating and intensely nourishing skin treatment. While egg yolk is a complete food and provides a wide array of nutrients to your skin, honey creates an anti-bacterial barrier, while nourishing your cells with enzymes to support its natural detox function. Add olive oil for an extra dose of moisture.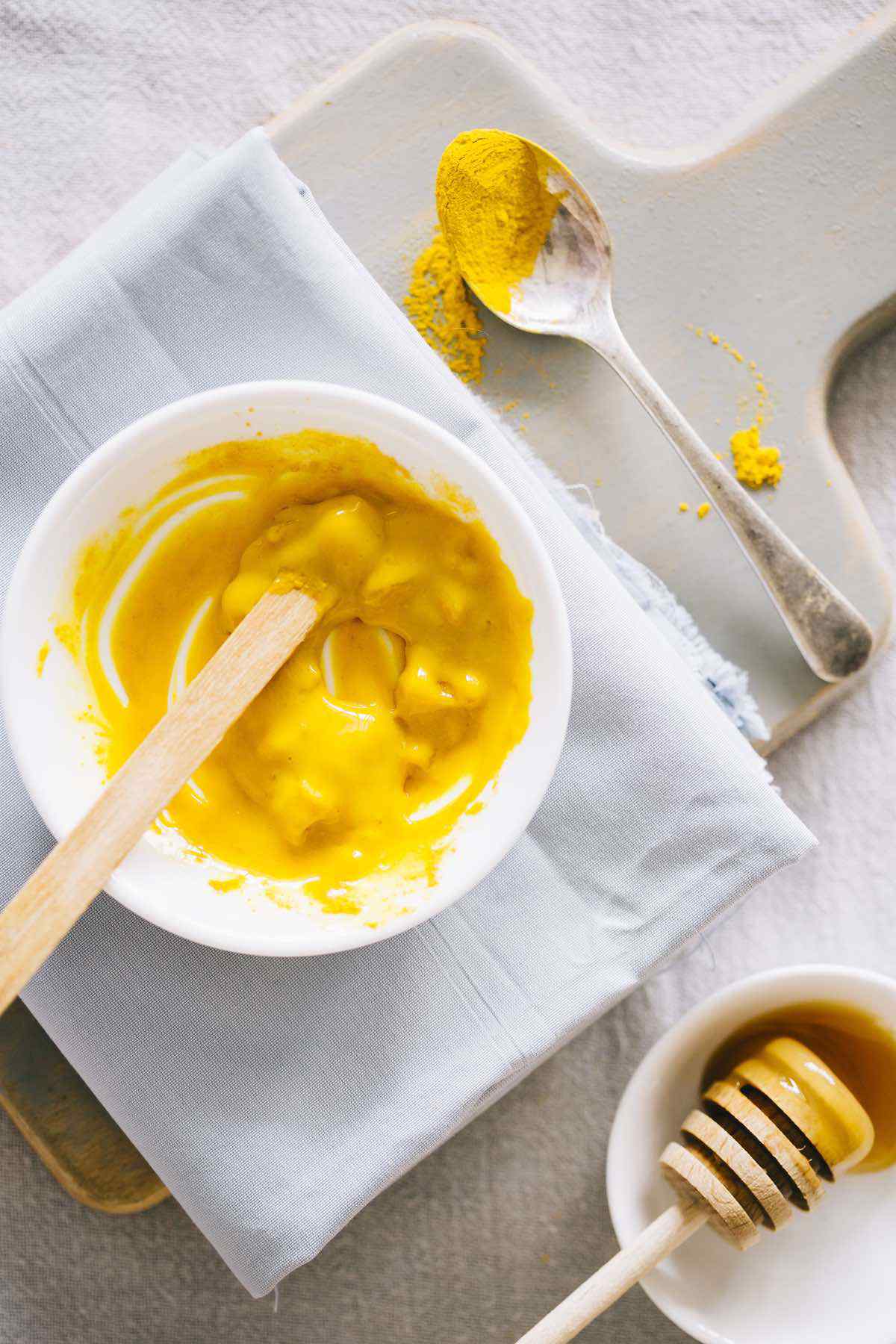 Turmeric for Skin: Benefits and Ways to Use It
Turmeric is touted for its many healing and cosmetic benefits. It's typically available as a ground spice or as a supplement. Turmeric's benefits can be attributed to its curcumin content, a bioactive compound that has been proven to have anti-inflammatory and antioxidant properties, especially when it comes to skin aging. (1)
If you end up liking this face mask (and I'm fairly confident you will), here are some other turmeric-based face masks from my favorite skin care blogs:
Honey and Its Many Therapeutic Effects
The use of honey has been traced back to as far back as 8000 years ago, but it has also found a place in modern medicine. Honey has been shown to have inhibitory effects on dozens of species of bacteria, virus and fungi. In addition, honey has even been shown to have cardiovascular benefits.
The Magic of Eggs (Don't Throw Away the Yolk!
If you ever find yourself separating the egg white from its yolk, make sure to save the yolk for later! You may want to use it for a face mask of two because the egg yolk, and the membrane encasing it to be specific, has been shown to help produce more collagen and elastin. When used for the skin, it can help reduce wrinkle depth. (3)
Extra Virgin Olive Oil Has Anti-Inflammatory and Antioxidant Effects
Olive oil contains more antioxidant properties than vitamin E thanks to its phenolic contents. In fact, the antioxidant activity of olive oil has been shown to exhibit anti-inflammatory properties. In one study, topical application of extra virgin olive oil reduced the incidence of skin cancer development. (4)
Quick and Easy DIY Face Mask at Home
Once you have all the ingredients ready, simply combine them all in a bowl to obtain a paste. It's important that you mix everything well so that each portion of this paste contains an equal amount of ingredients. If you're using grated turmeric, you may notice some small chunks in your paste.
Apply a thin layer all over the face and leave it on for about 20 minutes. Once done, rinse off with warm water and apply your regular moisturizer.
Can I Use Egg Whites Instead of Egg Yolks?
For this recipe, we recommend sticking with the egg yolk since the membrane encasing the yolk is one of the components behind the collagen-producing effect. Furthermore, egg yolk is an excellent water-binding agent that helps lock moisture into the skin.
Turmeric vs. Ginger – What's the Difference?
Both ginger and turmeric are widely used in Asian cuisine and certainly have their fair share of benefits. Ginger offers a spicy zing to dishes while turmeric has a peppery but slightly bitter taste.
Turmeric can be yellow or orange depending on its carotene content. Turmeric contains curcumin while ginger does not, so while they may have similar flavor profiles, the two are not interchangeable in this recipe.
How Often Can I Apply This Hydrating Mask?
We recommend starting out a few times a week and then gradually increasing the frequency of application. You can also test a small area of your face and observe if there's any reaction to the face mask. Otherwise, you're good to go to apply it on the rest of your face.
Hydrating Turmeric DIY Face Mask (Egg Yolk, Honey, Olive Oil)
Scale
1 tsp

powdered turmeric
(or grated, if available)

1

egg yolk

1 tsp

organic raw honey

1 tbsp

extra virgin olive oil
Combine all the ingredients into a small bowl to obtain a paste.
Apply on your face in a thin layer, leave it for 20 minutes, then rinse it with
warm water.
More DIY Face Masks:
Homemade 3-Ingredient Coffee Mask for Puffy Face
The Best Turmeric Honey Face Mask
4-Ingredient DIY Avocado Bentonite Clay Face Mask Recipe
Homemade Coffee Face Scrub