DIY Gifts
Make-Ahead Split Pea Soup Mix in a Jar
What's your favorite type of soup? I find it fascinating how you could ask 10 different people that same exact question and end up with 10 different answers.

Some people are crazy about chicken noodle soup. Others like to stick with something classic like tomato soup. Myself? As much as I love making a ton of different soup recipes, if you were to force me to choose a favorite, I think I would have to go with homemade split pea soup, and this is my favorite split pea soup mix recipe that you can make ahead and store in a jar!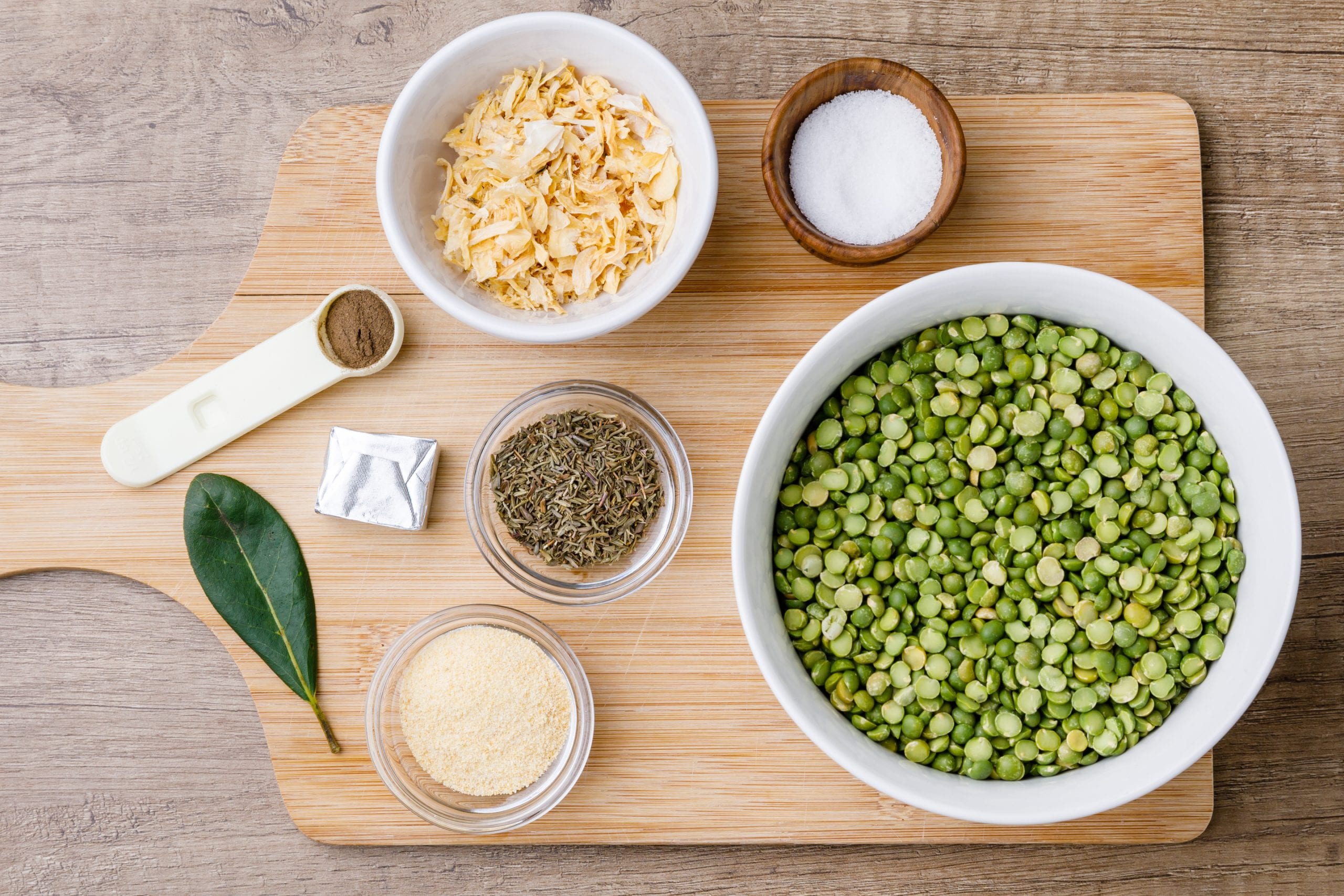 For the split pea soup recipe you'll need two cups of split peas, dried thyme, chopped onion, garlic powder, one single bay leaf, one chicken (or vegetable if you would prefer) bouillon cube, and salt and pepper.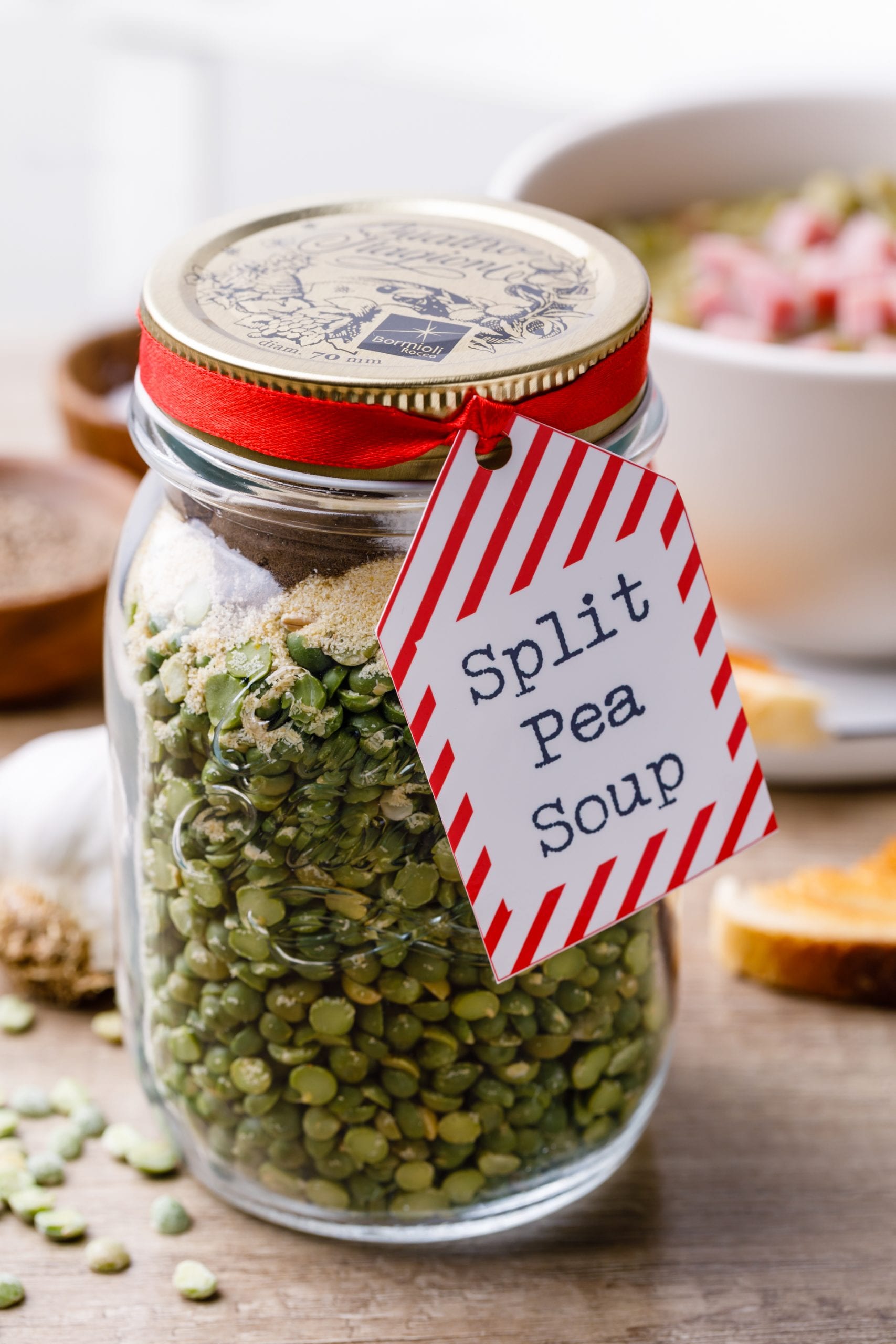 Just layer all of the ingredients inside of your jar by following the directions listed below and you'll have a no-hassle split pea soup ready to make whenever you're looking for a super easy meal!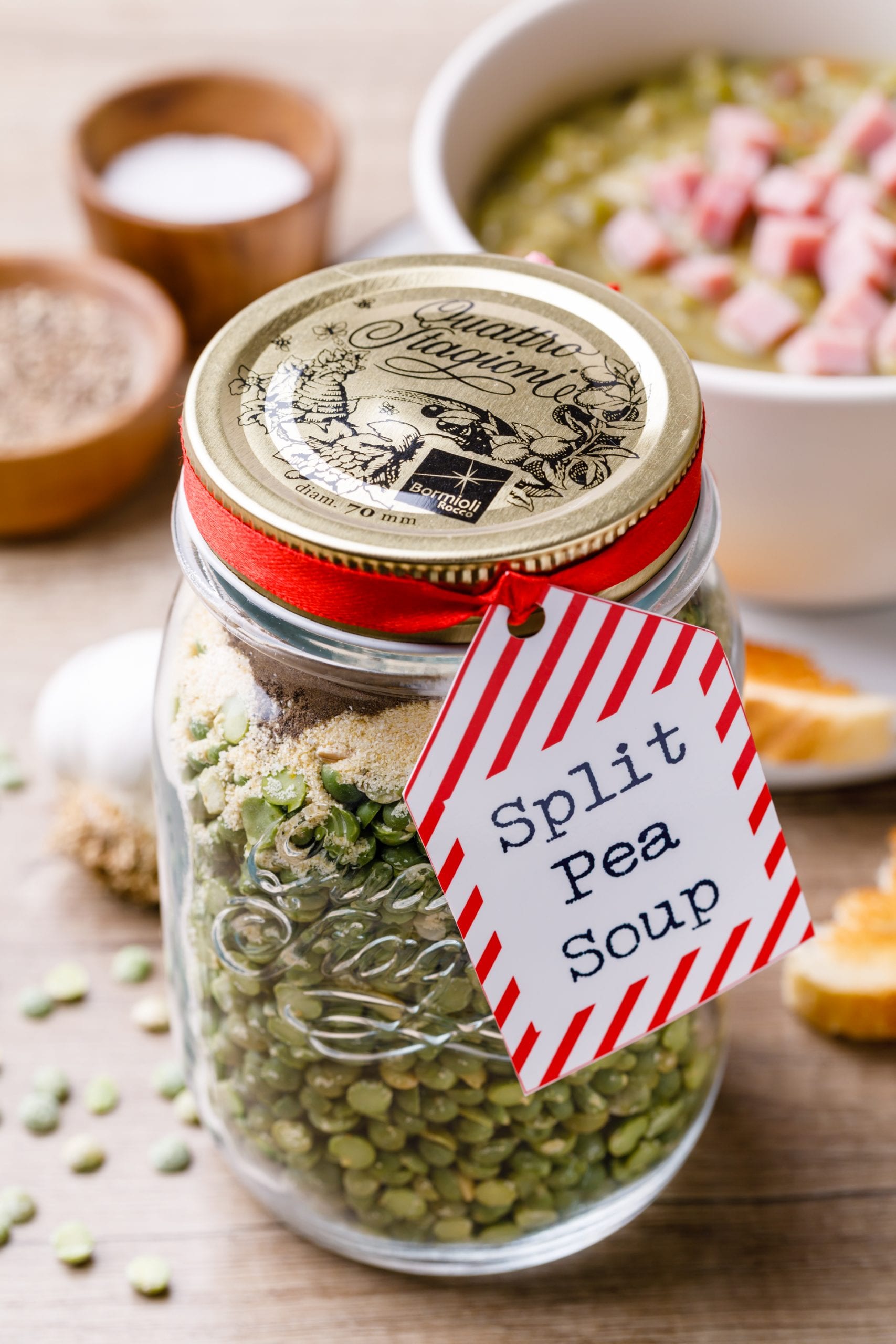 (You may also like: Make-Ahead Chicken Noodle Soup Mix in a Jar)
Make-Ahead Split Pea Soup Mix in a Jar
Author: Anna Young
Prep Time:

5 minutes

Total Time:

5 minutes
Scale
2 cups

split green peas

1 tsp

dried thyme

3 tbsp

dried chopped onions

1 tsp

garlic powder

½ tsp

black pepper 

1 tsp

salt 

1

bay leaf

1

chicken or vegetable bouillon cube
Layer the ingredients in the following order in a jar: 
– split green peas
– dried thyme
– garlic powder
– black pepper
– salt
-dried onions
– bay leaf 
– bouillon cube 
Print the recipe tag on card stock and cut out. 

Attach the tag to the jar. 

Decorate the jar as you wish. 
To make the soup:
Unwrap the bouillon cube.

Add the bouillon cube, remaining content of the jar, 2 diced carrots, 2 diced celery stalk and 6 cups of water into a large pot. 

Bring to a boil over medium-high heat. 

Reduce the heat. 

Cover and simmer, until the split peas are tender, about one hour, adding more water as necessary. 

Discard the bay leaf. 

Stir in 1 cup of chopped ham and serve.