DIY Gifts
Red Velvet Cupcakes In a Jar with Cream Cheese Frosting
I have a confession to make today guys. While I do my best to eat healthy around 90% of the time, I have a huge weakness for anything red velvet. I've been making red velvet baked goods like crazy lately. It doesn't matter whether it's red velvet muffins, red velvet cookies, or red velvet cupcakes–I'm totally hooked! These red velvet cupcakes in a jar are no exception.
I'm super excited to share this holiday recipe because it's great for single-serve dessert cravings or for parties and get-togethers as well.
You'll first be baking these cupcakes from scratch (complete with a ridiculously good homemade frosting as well) before cutting them into halves to add into the jar. The basic idea is to add half of a cupcake, then add a layer of frosting, and then add two more layers of cupcake and frosting.
The end result is a dessert that not only tastes amazing, but it also looks incredibly cool as well. You can use the filled jars as a holiday decoration on your shelf or they even make a great gift idea for any of your loved ones with a sweet tooth as well.
The Very Best Cupcakes Are Always Made From Scratch
The one upside to having such a weakness for baked goods is that I typically only eat my own homemade sweets.
This makes sure that I know exactly what goes into every recipe that I make and I don't have to worry about any kind of unwanted additives or preservatives.
There's nothing too out of the ordinary with the ingredients used to make these red velvet cupcakes. You'll of course be using baking staples like all purpose flour, baking soda, eggs, and whatnot.
In order to give your cupcakes their chocolate flavor, you'll be using three tablespoons of unsweetened cocoa powder. While cocoa powder may taste slightly bitter, it's also a far healthier option than using something like milk chocolate.
Unsweetened cocoa powder is a great source of heart healthy fats, dietary fiber, and disease fighting antioxidants.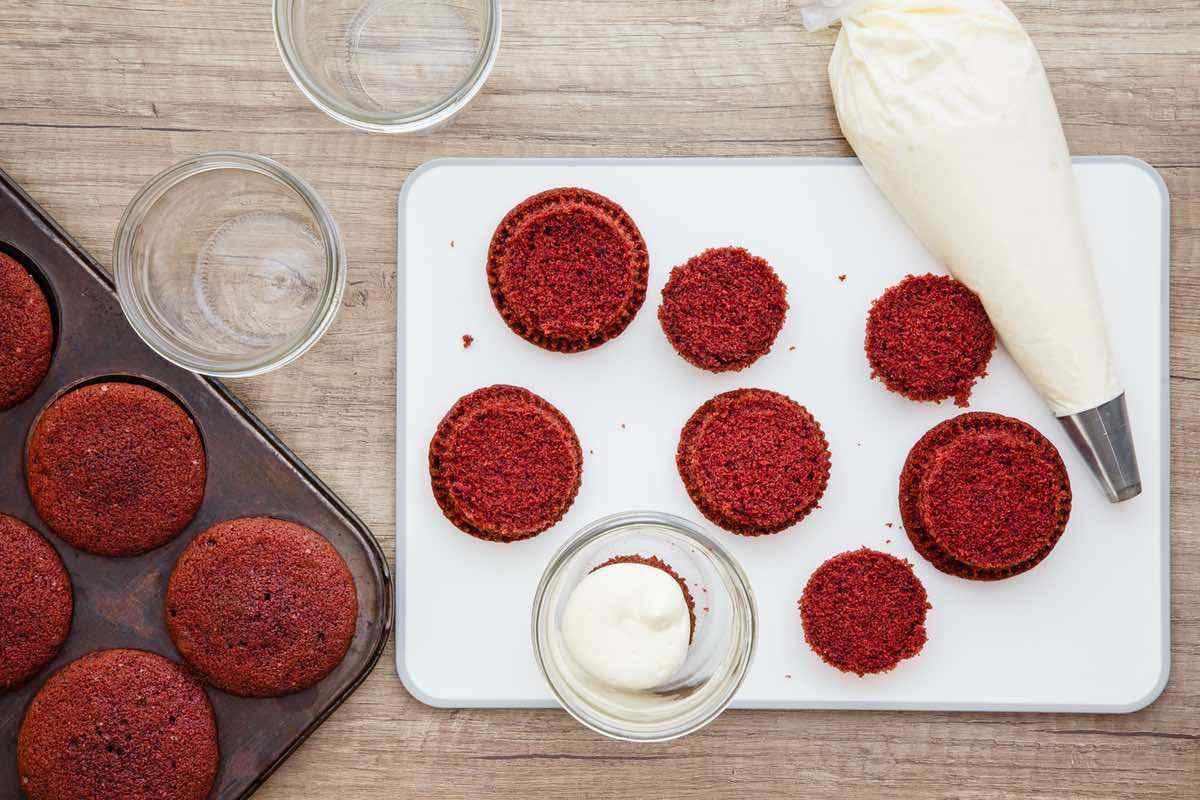 Besides, the slight bitterness of the cocoa powder is offset by some of the other ingredients like sugar, butter, apple cider vinegar, buttermilk, and pure vanilla extract. After preparing your cupcake mixture, you can bake them in the oven for about 18-20 minutes at 350ºF.
While your cupcakes are baking in the oven is a great time to prepare the homemade frosting mixture. Making the frosting is incredibly straightforward, as you'll only need four simple ingredients: softened unsalted butter, softened cream cheese, powdered sugar, and vanilla extract.
You'll first need to beat the powdered sugar and butter until it makes a nice creamy mixture. Then you can gradually add in your cream cheese and vanilla extract until everything is well combined.
Once your red velvet cupcakes have cooled and you have your frosting ready to go, you'll be all set to start adding your layers. You can also feel free to print the recipe off from below on card stock to attach to your jar if you would like.
Red Velvet Cupcakes In a Jar with Cream Cheese Frosting
Author: Anna - MissWish.com
Prep Time:

30 minutes

Cook Time:

18 minutes

Total Time:

48 minutes

Yield:

1

0

1

x
Scale
For the cupcakes:
1 ½ cups all purpose flour
3 tbsp unsweetened cocoa powder
1 tsp baking soda
pinch of salt
½ cup unsalted butter, softened
1 cup granulated sugar
¼ cup mild vegetable oil
2 large eggs
2/3 cup buttermilk
1 ½ tsp apple cider vinegar
2 tsp vanilla extract
1 tsp red gel food coloring
For the frosting:
¾ cup unsalted butter, softened
12 oz cream cheese, softened
3 cups powder sugar
1 tbsp vanilla extract
Preheat the oven to 350ºF.
Line a 15 muffin cups with paper cups. Set aside.
In a bowl combine the flour, cocoa powder, baking soda and pinch of salt. Set aside.
In the bowl of a stand mixer fitted with the paddle attachment beat the butter and sugar until creamy.
Add the oil and beat until well combined.
Add the eggs and mix to combine.
Add the buttermilk, apple cider vinegar, vanilla extract and food coloring and beat well combined.
Add in the flour mixture and beat until smooth.
Scoop the batter into the prepared muffin cups.
Bake in preheated oven for 18-20 minutes or until a toothpick inserted into the center comes out clean.
Remove from the oven and allow to cool completely.
To make the frosting, in the bowl of a stand mixer fitted with the paddle attachment, beat the butter and sugar until creamy.
Add the cream cheese and vanilla extract and beat until smooth.
Assembly:
Once cupcakes are cooled, cut them in half.
Add one cupcake half to a jar, then a layer of icing then repeat with two more layers of cake and icing.
Seal the jars.
Store in the refrigerator.
Can You Recommend Any Other Red Velvet Recipes?
Of course! Like I mentioned above, I've been going nuts baking a huge variety of different red velvet recipes as of late. Here's a brief list of some of my very favorite recipes from around the web:
Each and every one of the recipes above have been personally tested out by yours truly and I wholeheartedly recommend them, especially the inside out cookies.They're a definite must try.