Easy Recipes
Healthy Homemade Pancakes to Fuel Your Kids Body (And Mind)
When you close your eyes and imagine the perfect breakfast, the chances are you're thinking of a stack of golden-brown pancakes, smothered in syrup. This breakfast dish is famous for a reason; they taste amazing, and they're easy to make! However, the sugar and refined flour in pancake mix isn't the healthiest breakfast choice for your kids.
Refined carbs and sugar produce a blood-glucose crash in the mid-morning that leaves them feeling tired and energy-less in class. That's not the frame of mind that suits optimal learning. Try out our recipe for sugar-free pancakes. Your kids won't be able to taste the difference.
Power Pancakes for a Healthy Kids Breakfast
We debated about handing out this recipe for free. The perfect pancake recipe is a priceless commodity. After much deliberation, we decided that we want your kids to have the best breakfast ever, so here you go.
Creating the perfect pancake batter takes patience and practice. Make sure you're using organic ingredients for the recipe, it'll make all the difference in the final taste and texture of the pancakes. The secret for this recipe is ground-oats. Our favorite method is using a coffee-grinder to turn the oats into a fine powder. If you don't own a coffee grinder, blend the oats first before adding any other ingredients.
Rolled oats are an excellent source of dietary fiber, vital for the gastrointestinal health of your children. The rest of the ingredients to the blender, including the egg. Blend on high for 15 to 20-seconds. It's best to stick to this time-frame unless you have a commercial-grade blender, or you might burn out the motor. (1)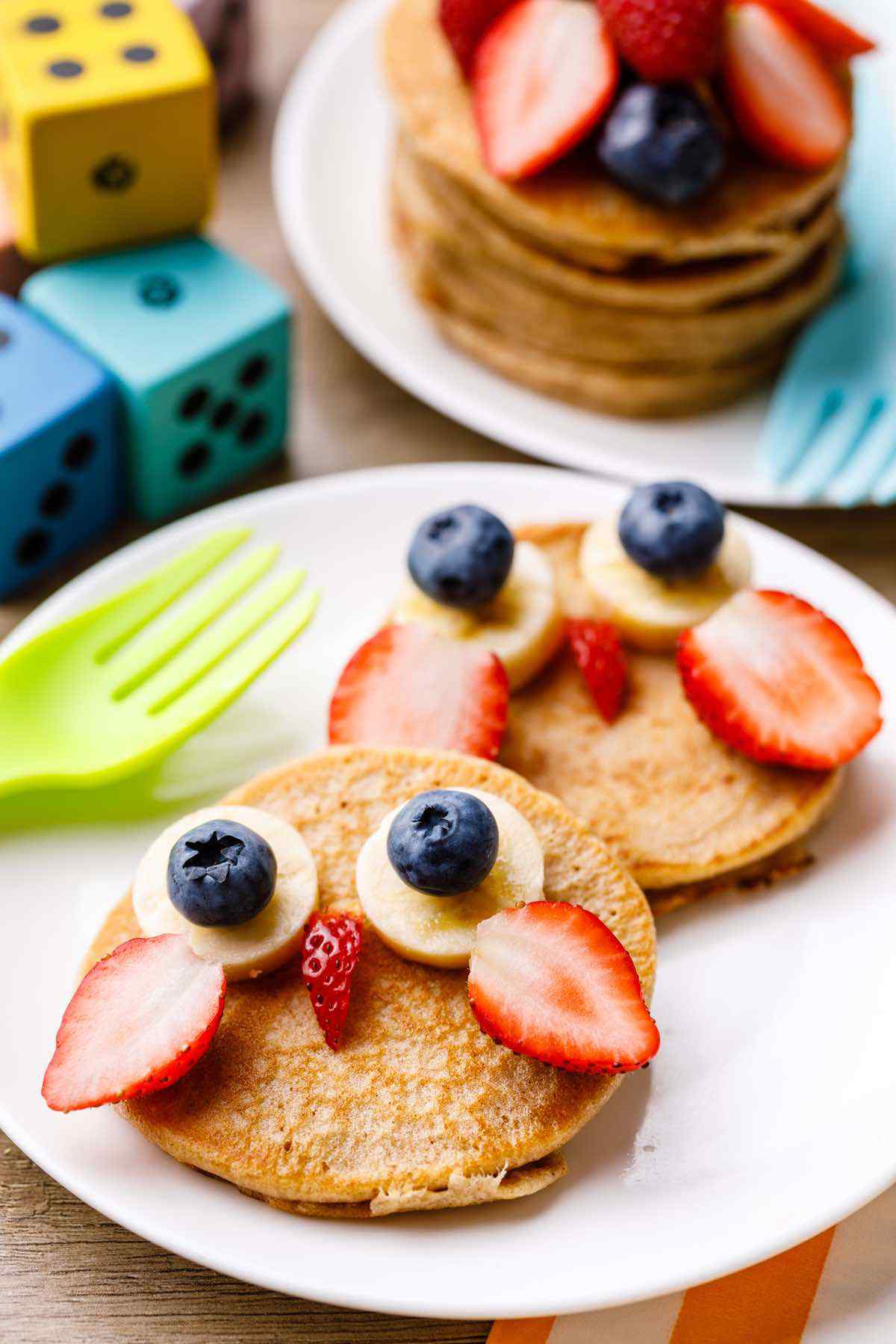 Check the consistency of your batter. It should have a viscosity of thick syrup. If it's too runny, add in some more flour, runny pancake batter leaves the cakes too thin. If the batters too thick, keep adding a tablespoon of milk and pulse the mix until you achieve the right consistency. A thick batter will make your pancakes rise too high, and they won't cook properly in the middle.
Add a tablespoon of grass-fed butter to a medium-heat pan and get ready for the magic to begin. Scoop out three tablespoons worth of batter to the pan. You should be able to fit 3-pancakes into a medium size pan. Cook one side for 90-seconds, and then flip. You're looking for a golden brown finish across the surface of the pancakes. (2)
Serve the pancakes warm to your kids with sliced fresh berries. Blueberries and strawberries are best. Don't forget the maple syrup! Make sure its genuine maple syrup and not "maple-flavored" syrup.
View More Healthy Breakfast Ideas for Kids:
How to Make Kid-Friendly French Toast That's Not Packed with Sugar
Healthy Protein Pancakes for Kids
Author:
Prep Time:

10

Cook Time:

20

Total Time:

30 minutes
Scale
3/4 cup

rolled oats

3/4 cup

all-purpose flour

2 tbsp

coconut sugar

½ tsp

ground cinnamon

1 tbsp

baking powder

¼ tsp

salt

1 ¼ cups

dairy or non-dairy milk or more as needed

1

large egg

4 tbsp

unsalted butter, melted, plus more for skillet (or substitute with coconut oil)

2 tsp

vanilla extract
Place the rolled oats in a high power blender and pulse until the oats reach a fine, powdery consistency.
Add the all purpose flour, coconut sugar, ground cinnamon, salt and baking powder and pulse to combine.
Add the milk, egg, butter and vanilla extract and pulse until combined.
If the batter is to thick, add more milk (1 tablespoon at a time) and pulse until it reaches the right consistency.
Lightly grease a non stick skillet with melted butter or coconut oil.
Heat the skillet over medium heat until hot.
Drop 1/8 cup of batter for each pancake onto the hot skillet.
Cook until small bubbles begin to form on the top.
Carefully flip the pancakes and cook on the other side 60- 90 seconds or until cooked through.
Serve warm with fresh berries.