Easy Recipes
The Best Peach White Wine Sangria – 5-Ingredient Sangria Recipe
There's really nothing quite like the taste of a freshly made batch of sangria. It's easily one of my all-time favorite alcoholic cocktails, thanks in no small part to the sheer amount of ways that you can make it. Today I'm going to share one of my favorite recipes for making sangria with white wine.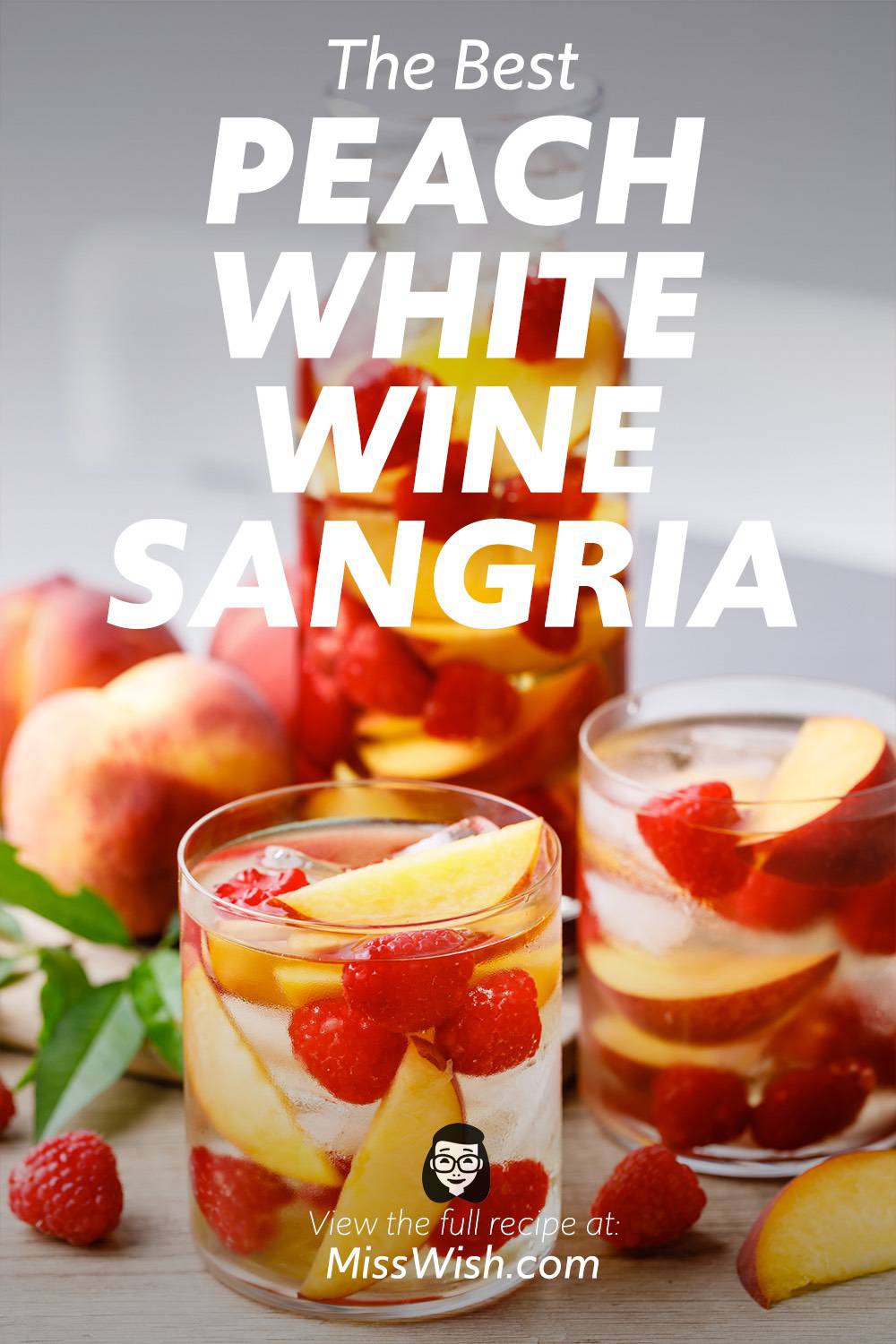 This recipe actually makes what could quite possibly be the best peach white wine sangria that I've ever tried and believe me, I've tried a lot of them!
What makes this recipe such a good one is the deadly combo of using both three peaches as well as ¼ cup of peach schnapps. It adds a potent one-two punch of peach flavor that blends amazingly well with your remaining ingredients: one cup of fresh raspberries, a single can of lemon lime soda, and a 750 ml bottle of dry white wine.
I love changing up the fruit in my sangria to whatever is in season, and some of my favorites are these: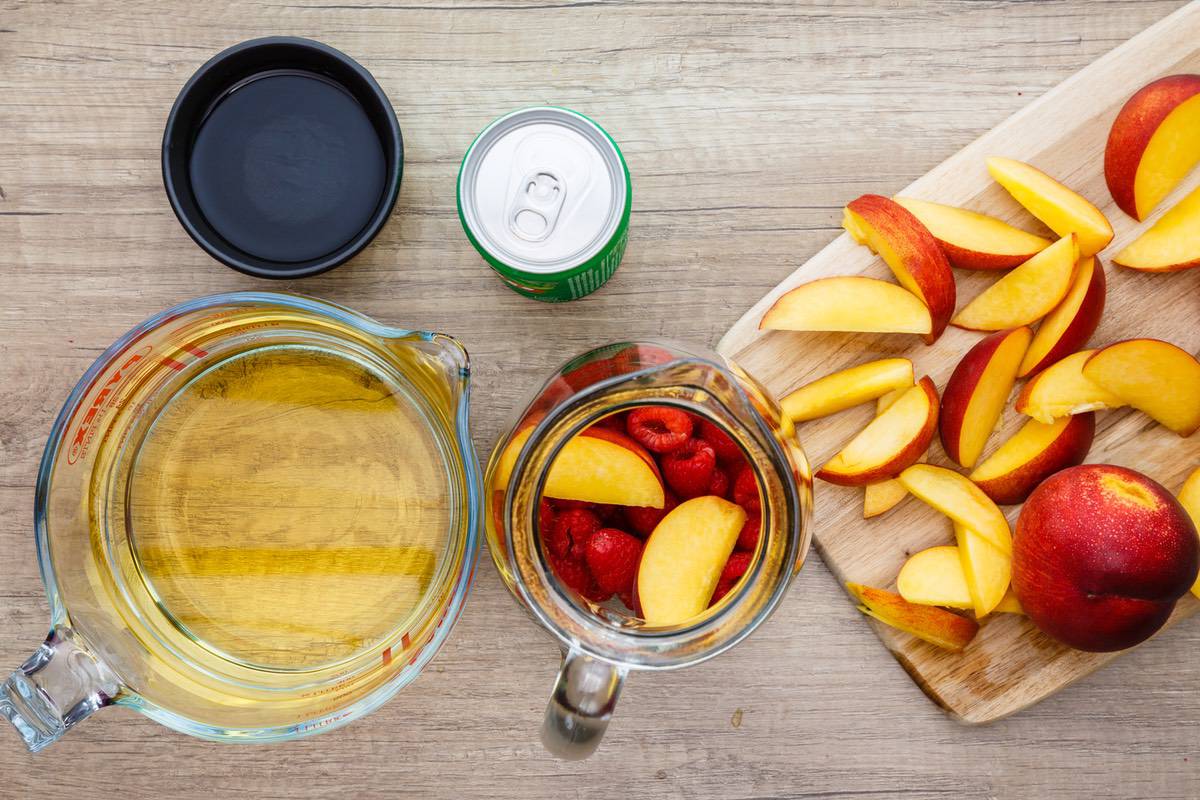 Choosing the Best Wine for Sangria
It's hard to get this part wrong but you can use anything from chardonnay to a sauvignon blanc. It boils down to what type of wine you like best and experimenting with different types of fruit until you achieve your desired result.
Fortunately for you, I've done quite a bit of research on this matter and trust me when I say that this recipe is a guaranteed home run.

How Long Do You Let Fruit Sit in Sangria?
I would say the absolutely minimum you should let your fruit sit in sangria is at least an hour. This will allow the fruit juice to mix into the wine, giving it that fresh, fruit flavor. Personally, I would refrigerate the sangria for 4 to 6 hours before serving at parties.
Overnight is great, too, but I don't usually have enough space in the refrigerator for a huge punch bowl or pitcher.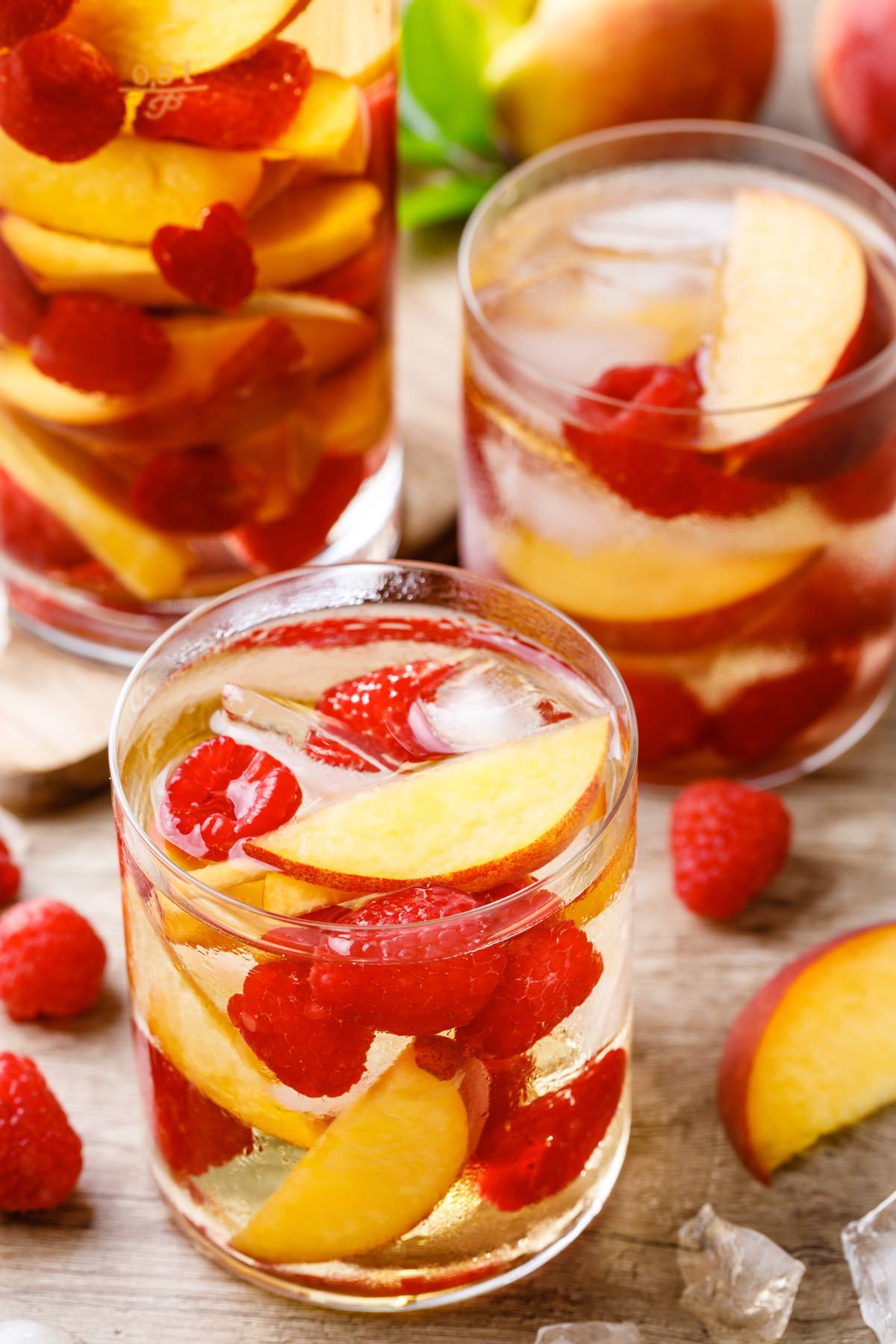 Best Way to Store Sangria
Speaking of punch bowls and pitchers, I highly recommend storing your sangria in a glass container. Wine experts recommend storing wine in glass containers over plastic because it tends to oxidize faster in plastic containers.
However, using plastic cups during a party or event should be fine, since it will only be in the cup for a few minutes at a time, right?
Other Sangria Recipes You'll Love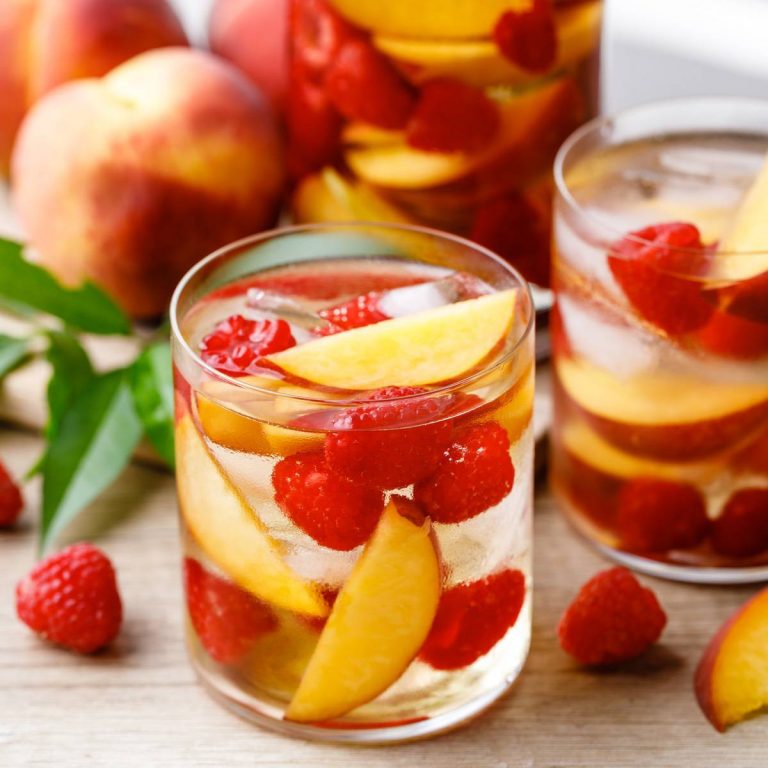 The Best Peach White Wine Sangria – 5-Ingredient Sangria Recipe
Scale
3

peaches, sliced

1 cup

fresh raspberries

1

(750 ml) bottle dry white wine

1/4 cup

peach schnapps

1

can lemon lime soda
In a large pitcher combine the peach, fresh raspberries, peach snaps and white wine. 

Cover with plastic wrap.

Let chill in refrigerator for at least one hour. 

Top with lemon lime soda. 

Serve over ice.