Easy Recipes
Easy Instant Pot Spaghetti (Noodles Only Recipe)
Today I'm going to be sharing one of the easiest spaghetti recipes ever. Thanks to the instant pot, I can minimize my clean-up time without sacrificing flavor or nutrients. You can actually have this instant pot spaghetti ready to go, start to finish, in just over five minutes (this is why I love my instant pot so much). Just add in the spaghetti noodles, a bit of olive oil, some water, and a pinch of salt and then let your instant pot work its magic. Make sure to use authentic extra-virgin olive oil when making this recipe to ensure that it's heart-healthy for you and your young ones.

Get ready to check out what is perhaps one of the easiest spaghetti recipes ever. All you'll need is an instant pot in order to make a spaghetti dinner that's full of flavor and nutrient-dense. You can literally have these spaghetti noodles ready to go in only five minutes, from start to finish. What I love about this instant pot spaghetti is how absolutely convenient it is without sacrificing texture or flavor. Yum!
The Easiest Spaghetti Recipe You'll Ever Make
You'll start out by taking 12 ounces of spaghetti noodles and breaking them in half before adding them into the instant pot. Next, add in the two tablespoons of olive oil, three cups of water, and a pinch of salt.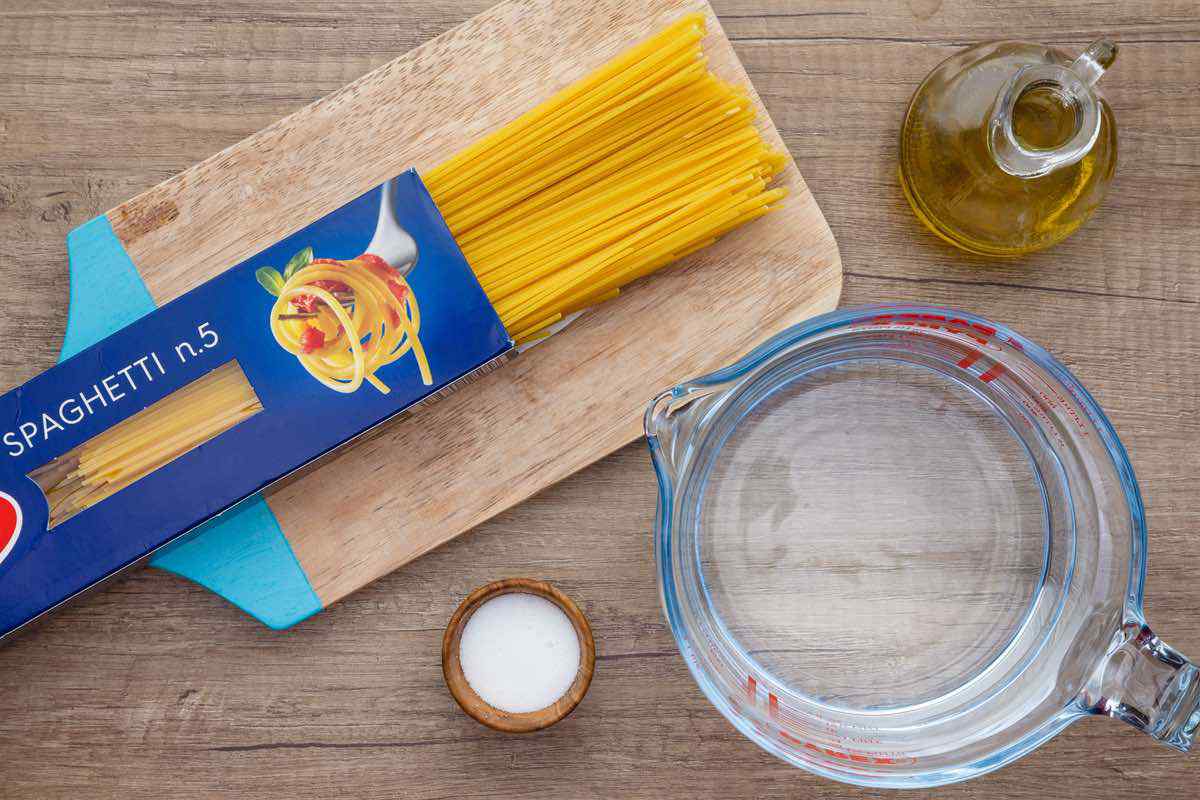 Press your spaghetti noodles down into the water and then seal up the instant pot, being sure to turn the venting knob to 'SEALING'. You can then press the 'PRESSURE LOCK' button (double check that the pressure mode is set to 'High'), and adjust the timer for approximately four minutes.
After the four minutes is up, leave the pressure to come down naturally for about 10 minutes or so before quick releasing the rest of the pressure. Open up the lid, stir the noodles, and then you'll be all set to serve the spaghetti along with your favorite sauce.
If Instant Pot Spaghetti is Your Thing, Check These Out
As I mentioned above, this particular recipe is without a doubt one of the easiest ways I know of to quickly make spaghetti noodles with an instant pot. However, if you're more interested in a more comprehensive spaghetti meal recipe, complete with meat, sauce, and all of those other bells and whistles, we've got you covered there as well. Check out these two other instant pot spaghetti recipes from some of my favorite food blogs:
Can I Add Beef or Sausage to My Spaghetti?
While the recipes that I listed above definitely serve as a good starting point for branching out, there's still something to be said about taking this specific recipe and adding on to it.
Another one of my go-tos for sauce is to simply toss either sausage or lean ground beef into the instant pot, along with some red wine, onion, garlic, tomato sauce, and diced tomatoes.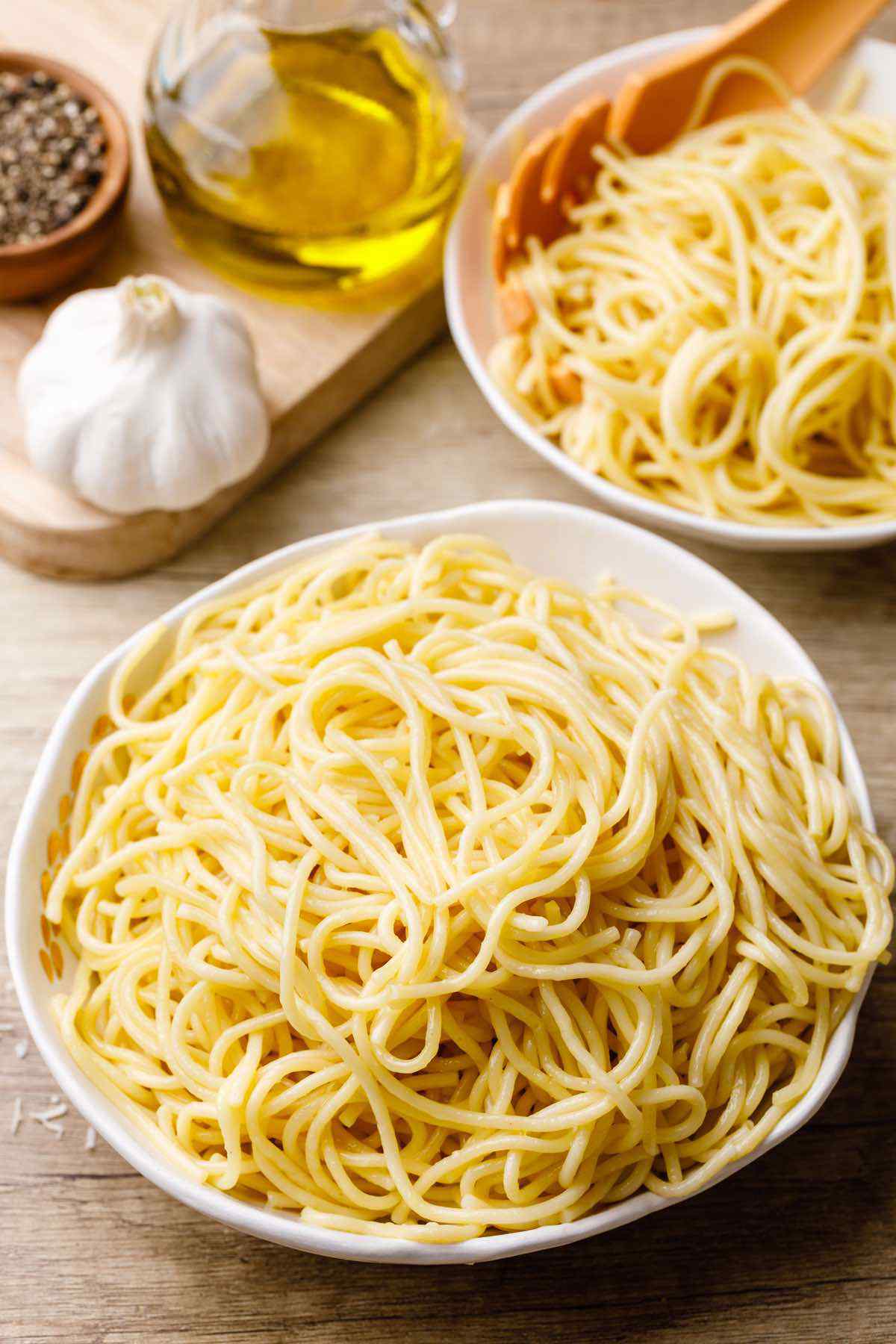 Is This Spaghetti Noodle Recipe Keto Friendly?
Unfortunately, because you'll be using traditional pasta noodles to make this spaghetti, this recipe is definitely not keto friendly (or even paleo friendly, for that matter).
There's no need to fret though as you can still definitely make ridiculously good keto friendly spaghetti with your instant pot. You'll just need to get a little bit creative with your ingredient choices.
One of the most common ways to make keto style spaghetti is to simply swap out the spaghetti noodles for spiralized veggie noodles. The two most popular choices for low carb veggie 'spaghetti' are typically either squash or zucchini.
My Spaghetti Keeps Sticking to the Side of My Instant Pot
The easiest way to avoid this is to make sure that you break your spaghetti noodles in half before adding them into the instant pot (there's indeed a method to the madness after all!), while also making sure to take a bit of extra time to press your noodles down into the water before sealing your instant pot.
You're also going to want to resist the urge to give your spaghetti a stir before you cook the noodles as well. This also applies if you're planning on cooking a spaghetti sauce to go along with the noodles. You'll want to fully cook the sauce first, and then add in your pasta noodles afterwards, without stirring them.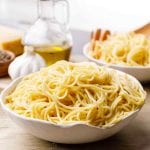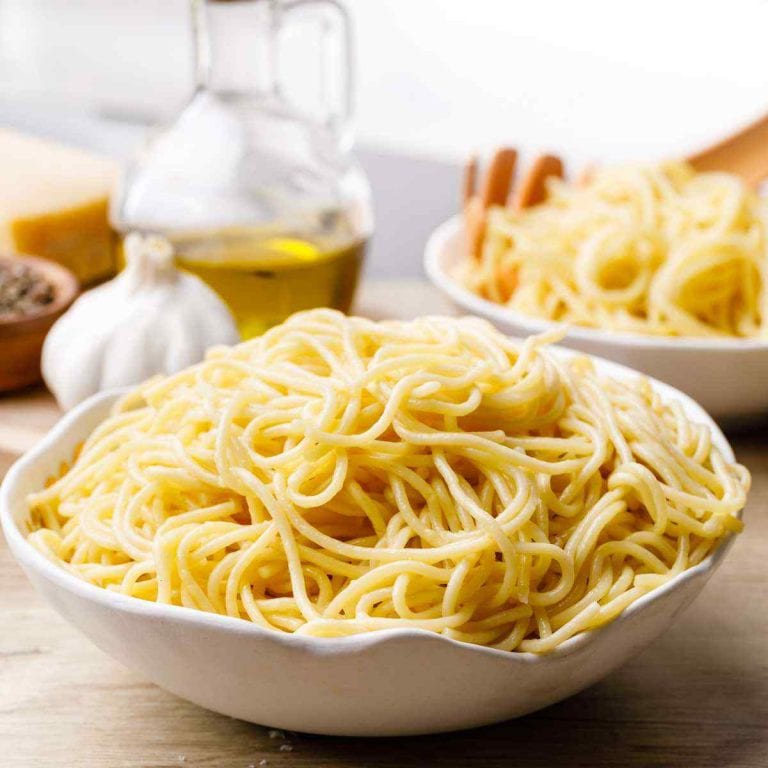 Easy Instant Pot Spaghetti (Noodles Only Recipe)
Author:
Prep Time:

2 minutes

Cook Time:

4 minutes

Total Time:

6 minutes

Yield:

4

1

x
Scale
12 oz spaghetti
2 tbsp olive oil
3 cups water
salt
Break the spaghetti into half and place in the Instant Pot.
Add the water, olive oil and pinch of salt.
Press the spaghetti under water.
Close and seal the Instant pot.
Turn the venting knob to SEALING.
Press the PRESSURE COOK button and check to make sure the pressure level shows as "High" on the display.
Adjust the timer to 4 minutes. (The cooking time is half of the suggest time on the pasta box.)
When finished cooking, let the pressure come down naturally for 10 minutes, then quick release the rest of the pressure.
Open the lid and stir.
Serve warm with your favorite sauce.
More Easy Pasta Recipes You'll Love: