Easy Recipes
Addictive Instant Pot Korean Short Ribs (ERMAHGERD!)
I absolutely love any kind of Asian cuisine. Chinese, Korean, Japanese, Thai, Vietnamese…I can't get enough of it. Today I'll be sharing a tasty recipe for making the most addictive instant pot Korean short ribs. I say addictive because it has all the makings of a phenomenal dish–tasty, fall-off-the-bone short ribs, a bomb sauce, and so much more. Just don't be surprised when you find yourself craving them on a near daily basis like I do. They're that good!

Perfectly Cooked Short Ribs With An Out of This World Homemade Sauce
There's a very good chance that this will end up being the only short rib recipe that you'll be needing from here on out. So with that being said, the trick is to get the DIY sauce done just right.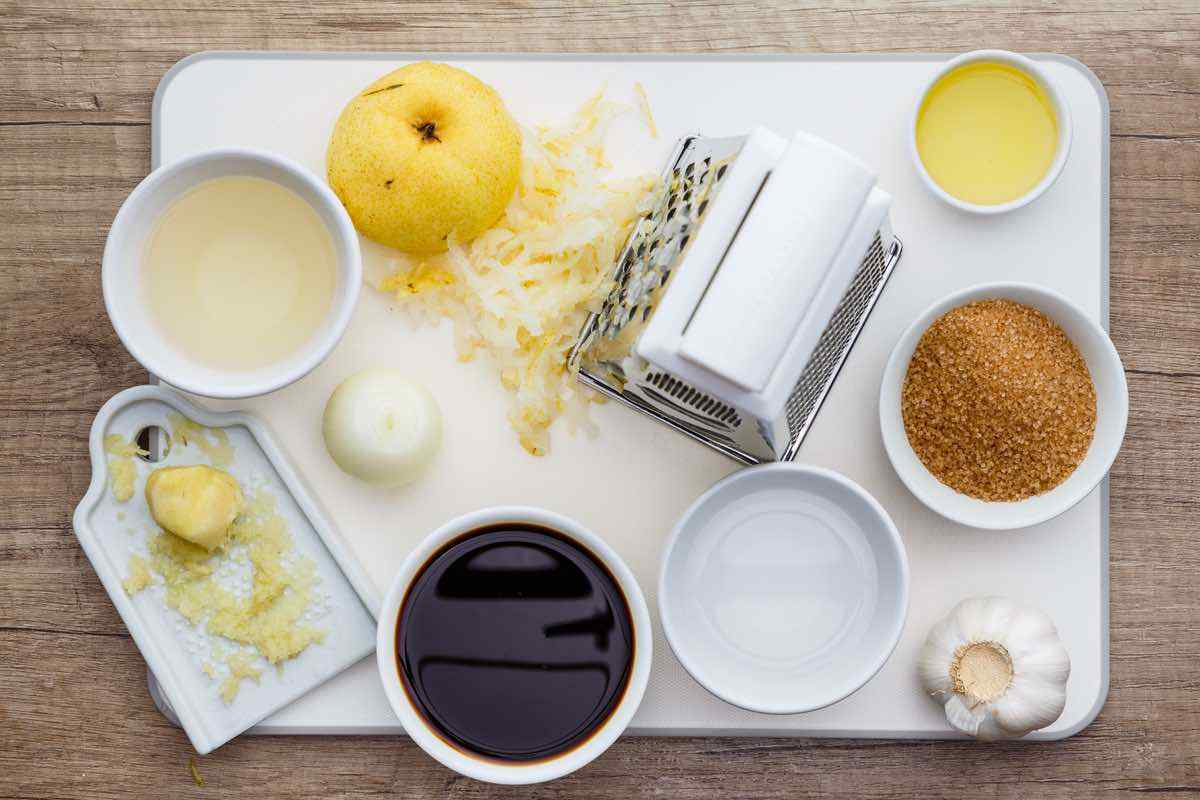 When you're making this recipe, the first thing that you'll want to do is get your instant pot out and then add in ½ cup of soy sauce, ¼ cup of water, ¼ tablespoon of mirin, a one inch of ginger that has been peeled and grated, ½ an Asian pear, ½ of a small onion, two minced garlic cloves, one single tablespoon of roasted sesame oil, four tablespoons of brown sugar, and just a pinch of black pepper.
Stir everything together inside the instant pot until it's all well combined, and then go ahead and add in your short ribs, tossing to combine. Next, seal up your instant pot and set it to 'PRESSURE COOK' mode with the pressure set to high.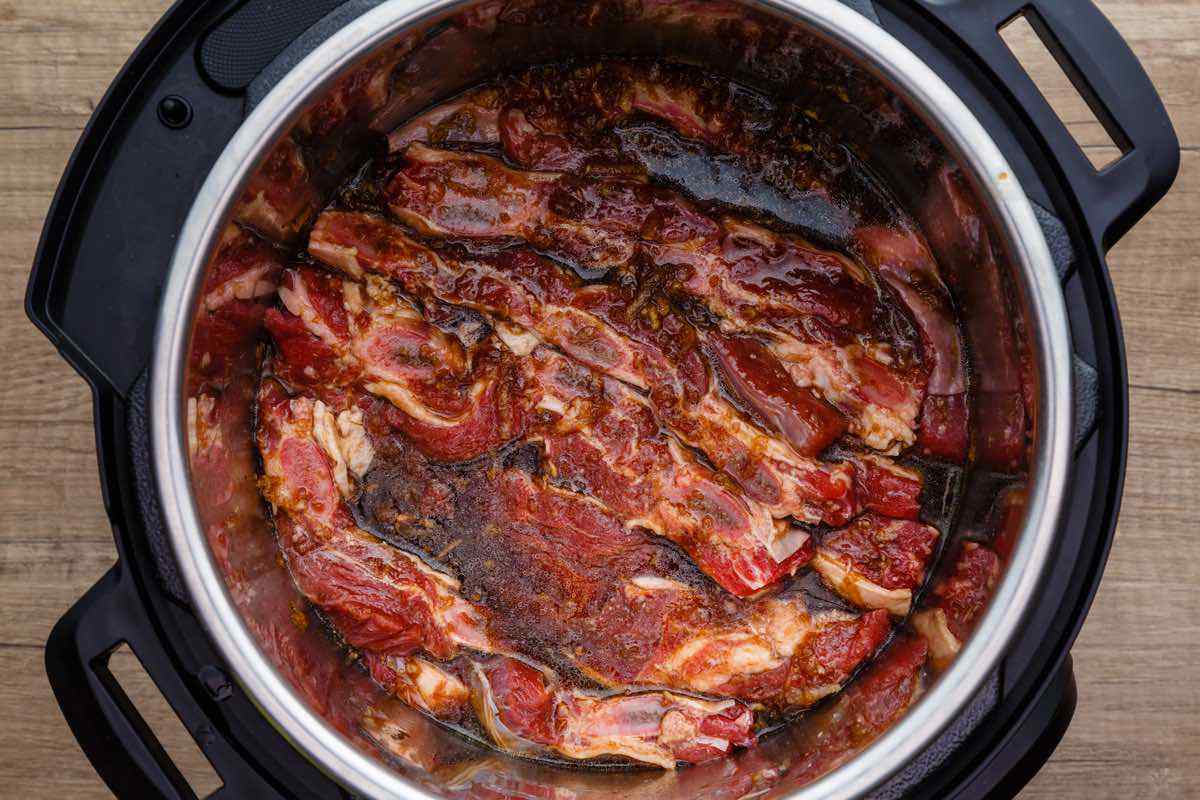 Cook your ribs for approximately 25 minutes, and then release the pressure of your instant pot according to the manufacturer's directions. Open the lid up, take out your ribs, and then press the 'SAUTE' button next.
Continue to cook your sauce, stirring it until the liquid becomes thick and glazy. Press the 'CANCEL' button on your instant pot and then spoon the sauce over top of your short ribs, tossing to coat.
You're going to want to serve the ribs immediately, garnished with a bit of chopped scallions.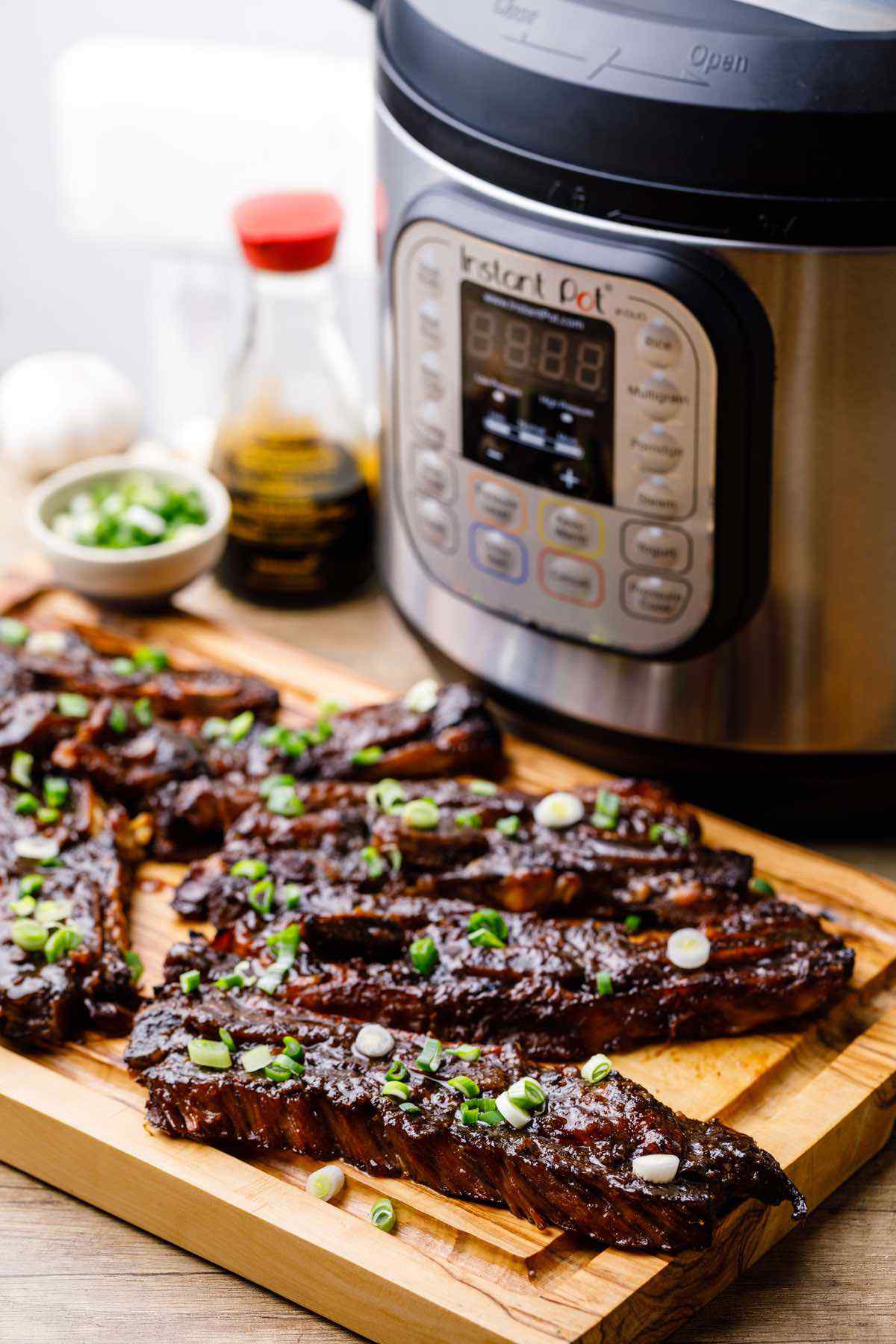 Other Short Rib Recipes That Will Blow Your Mind
There are plenty of other fantastic instant pot recipes for making ribs that you can enjoy if you can't get enough. As a matter of fact, here are five of the very best instant pot rib recipes that I know of, all from some of my favorite food blogs from around the web:
Best Side Dishes to Pair with Korean Short Ribs
Whenever I make these Korean style short ribs in my instant pot, I do my best to keep the Korean theme going by serving them with traditional Korean sides. Some of my favorite Korean side options include the following:
Korean spinach
Spicy scallion salad
Pickled radish
Korean bean sprouts
Cucumber Kimchi
Try: Make a Soup or Stew With These Korean Short Ribs
If none of the side dish recommendations that I listed above sound appealing to you, there's still always the option of just taking your instant pot and making either Korean short rib soup (traditionally known as Galbitang in Korea) or a stew. Both options end up tasting absolutely incredible!
Can I Use Pork Ribs Instead of Beef For This Recipe?
While this particular recipe calls for the use of two pounds of beef short ribs, it's definitely perfectly acceptable to use pork ribs instead. One final suggestion I want to make is to just make sure that you stick with ribs that still have the bone in them. They end up tasting way more flavorful that way.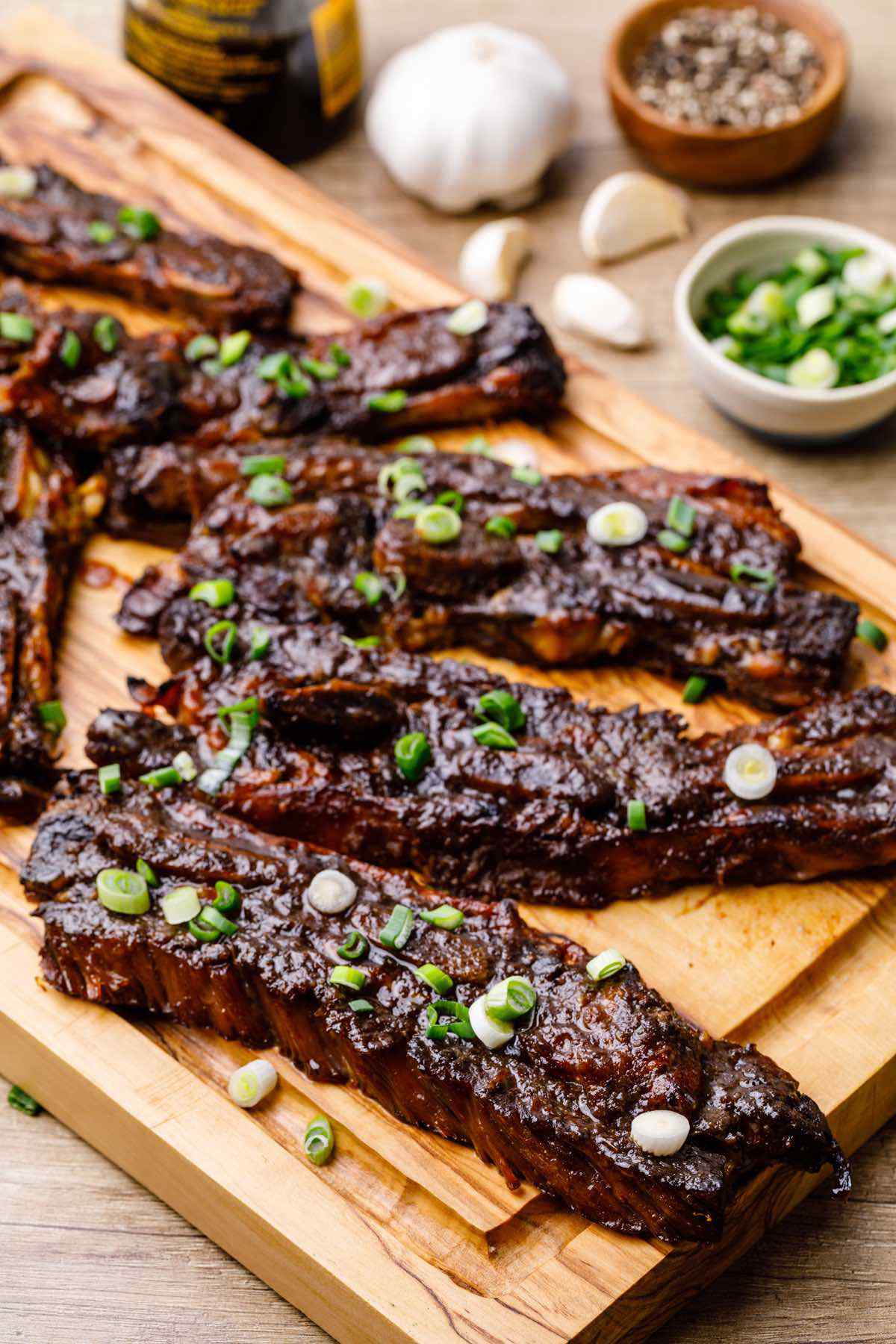 And if you prefer your short ribs to a bit more on the charred side of things, you can simply turn the broiler on in your oven and broil the ribs until they're lightly charred on both sides. This goes for pork or beef.
(You may also like: Melt in Your Mouth Instant Pot Baby Back Ribs with Homemade BBQ Sauce)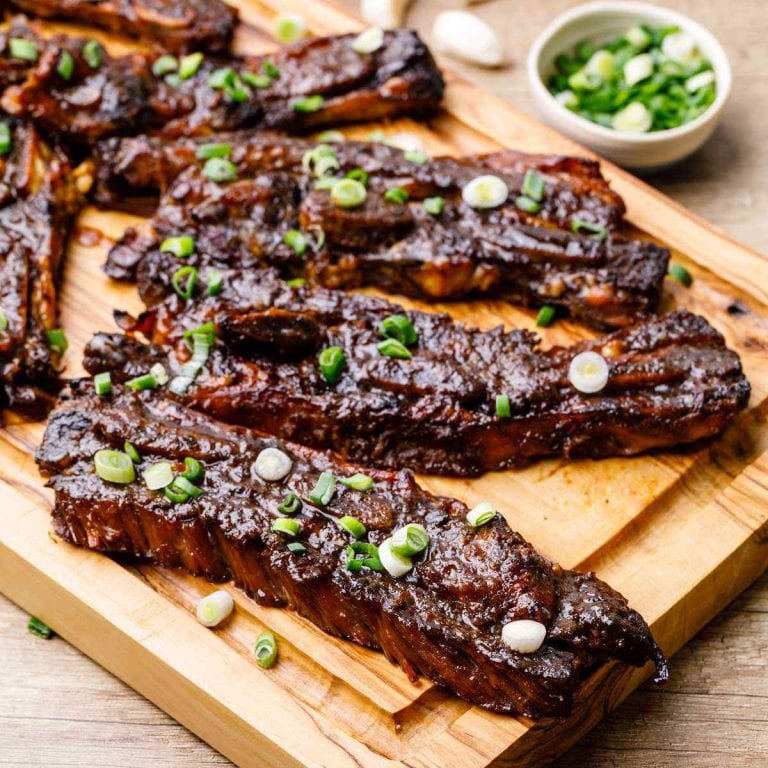 Addictive Instant Pot Korean Short Ribs (ERMAHGERD!)
Author: Anna - MissWish.com
Prep Time:

5 minutes

Cook Time:

30 minutes

Total Time:

35 minutes

Yield:

6

1

x
Scale
2 pounds 1/4- to 1/2-inch-thick crosscut bone-in beef short ribs (flanken style)
½ cup soy sauce
¼ cup water
¼ tbsp mirin
1 inch fresh ginger, peeled and grated
4 tbsp brown sugar
½ Asian pear, grated
½ small onion, grated
2 garlic cloves, minced
1 tbsp toasted sesame oil
2 scallions, sliced thinly
black pepper to taste
Add the soy sauce, water, mirin, ginger, onion, Asian pear, garlic, sesame oil, pinch of black pepper and brown sugar to the Instant pot.
Stir to combine.
Add the ribs and toss to coat.
Close and seal the Instant pot.
Turn the venting knob to SEALING.
Press the PRESSURE COOK button and check to make sure the pressure level shows as "High" on the display.
Adjust the timer to 25 minutes.
When finished cooking, release pressure naturally according to manufacturer's directions.
Open the lid.
Remove the ribs from the Instant pot.
Press the SAUTE button on the Instant pot.
Cook the sauce, stirring frequently, until the liquid is thick and glazy.
Press the CANCEL button.
Taste and add more black pepper if necessary.
Spoon the sauce over the ribs and toss to coat.
Serve immediately sprinkled with scallion or for charred ribs, turn the broiler on the oven.
Place the ribs under the broiler and broil until lightly charred on both sides.
Remove from the oven, sprinkle with scallions and serve.
More Easy Beef Recipe Ideas: