Easy Recipes
Instant Pot Bone Broth Chicken Noodle Soup (Try this!)
As far as I'm concerned, there's nothing worse than being sick. I very rarely get sick these days, but when I do, watch out — I'm completely miserable for days on end. I'm sure many of you guys can relate. That's why it breaks my heart whenever I see my kids get sick. I know exactly how miserable they're feeling. Thankfully, I know of a few recipes that taste great and also help to provide relief for when you're feeling under the weather. One such recipe is the one I'll be sharing today. It makes an Instant Pot bone broth chicken noodle soup for kids with a cold. This particular chicken noodle soup includes a few special ingredients with antiviral properties that have been proven to be effective against the common cold.
Fight Off the Cold While Enjoying a Satisfying Bowl of Soup
In order to make an Instant Pot soup recipe, you're obviously going to need to use an Instant Pot. If you don't already own one, trust me when I tell you this — they're absolute game changers! I picked up the Instant Pot 7-in-1 Multi-Use Pressure Cooker (you can get the exact model I bought by clicking right here) a few months ago, and I've already gotten more than my money's worth, several times over.
It's amazing for making all kinds of homemade soups, stews, and it can even make yogurt. I highly recommend picking one up — especially since we'll be sharing quite a few great Instant Pot recipes in the next little while.
As for actually making this soup recipe, you'll want to set your Instant Pot to 'SAUTE' and let it stand until it's reading 'HOT'. You can then add in your butter and begin to cook your chopped onion, carrots, and celery. One quick note about the butter — I recommend not only always going with butter over margarine, but I'd also suggest going for grass-fed butter whenever possible.
Grass-fed butter has increased concentrations of healthy omega-3 fatty acids and antioxidants compared with the butter from grain-fed cows. (1) If you're making a bowl of soup in hopes of stopping a cold virus dead in its tracks, doesn't it make sense to go with more nutrient-dense ingredients?
Cook your veggies for about 4-5 minutes and then add in four cups of homemade bone broth, four cups of water, and a single teaspoon of dried thyme. You can also optionally add in one teaspoon of dried oregano as well, which I strongly recommend doing. Both of these culinary herbs contain some great antiviral properties, and studies have found that when used in combination, they're both incredibly effective at relieving inflammation as well. (2)
Seal up the Instant Pot and leave the soup cook for about 10 minutes. Once the time is up, quick-release the pressure and remove the chicken. Shred it using two forks, press the 'SAUTE' button once more on the Instant Pot, and bring the soup to a boil before adding the shredded chicken back in.
To finish the recipe off, simply add in the egg noodles and cook them for 5-6 minutes. When serving this soup, I would recommend stirring in some chopped fresh parsley to use as a garnishment. Like the dried thyme and oregano, parsley contains antioxidant compounds that may be effective in helping your body to fight off the cold virus — plus it definitely enhances the flavor of this chicken noodle soup! (3)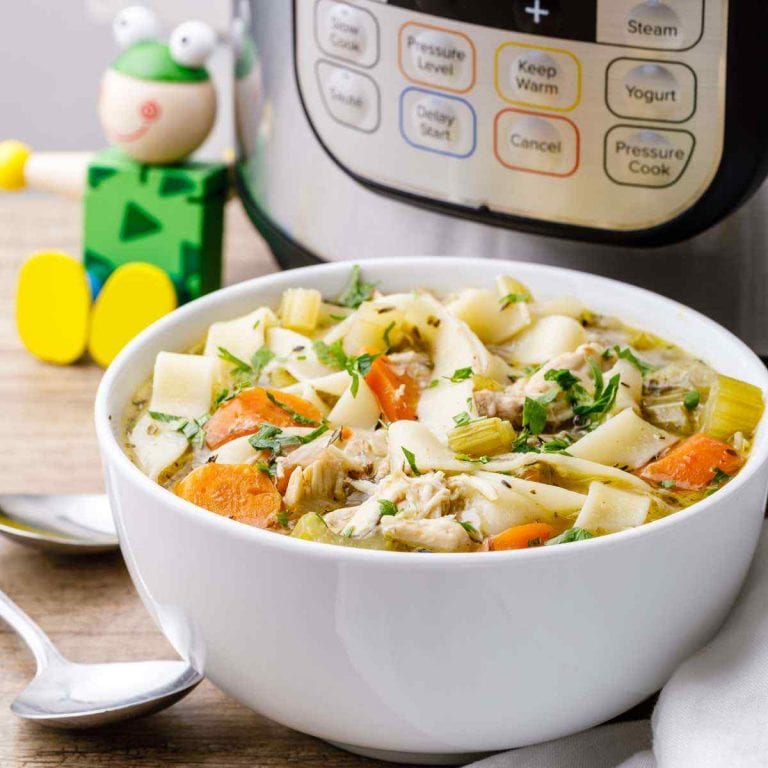 Instant Pot Bone Broth Chicken Noodle Soup
Author: misswish.com
Prep Time:

10 minutes

Cook Time:

20 minutes

Total Time:

30 minutes

Yield:

6

1

x
Scale
2 tbsp butter unsalted
1 medium onion chopped
1 ½ pound skinless boneless chicken breast
2 medium carrots, chopped
2 celery stalks, chopped
1 tsp dried thyme (optional)
2 tbsp chopped fresh parsley
1 tsp dried oregano (optional)
4 cups homemade bone broth
4 cups water
5 oz egg noodles uncooked
salt, black pepper to taste
Press the SAUTE button on the Instant pot and let stand until screen reads "HOT".
Add the butter.
Add the onion, carrots and celery and cook for 4-5 minutes.
Add the chicken, bone broth, water, dried thyme and dried oregano (if using). 
Close and seal the Instant pot.
Turn the venting knob to SEALING and press PRESSURE COOK button.
Adjust the timer to 10 minutes.
When finished cooking, quick-release pressure according to manufacturer's directions.
Remove the chicken form the Instant Pot.
Shred the chicken with 2 forks.
Press the SAUTE button on the Instant Pot.
Bring the soup to a boil.
Return the chicken into the Instant Pot.
Add the egg noodles and cook for 5-6 minutes or until the noodles are cooked.
Season to taste with salt and black pepper.
Stir in the chopped fresh parsley and serve.