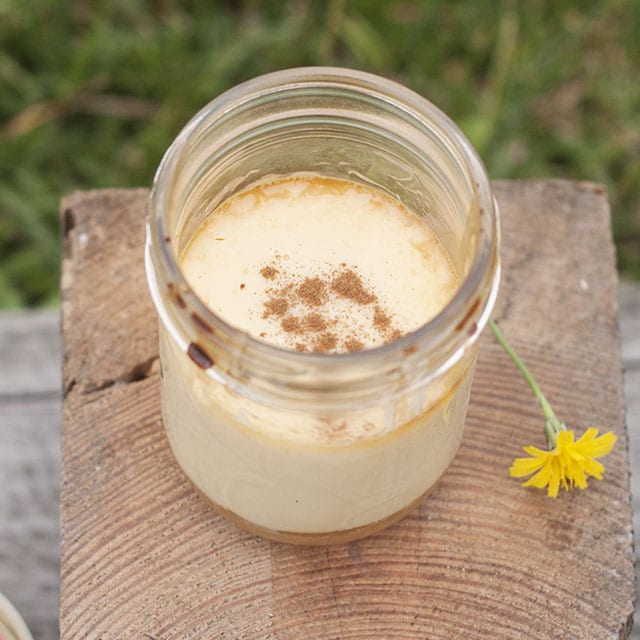 Flan in a Jar
Scale
Caramel bottoms
1 cup

white sugar

1/3 cup

water
Custard
4

egg yolks, room temperature

1

can (1/3 cup) evaporated milk

1 1/3 cup

sweetened condensed milk

1 tsp

vanilla
cinnamon
Place the 6 small jars into the 13×9 in pan and fill it with water to about an inch from the top of the pan.
Preheat the oven to 350˚F.
For the caramel
Mix the sugar and the water in a small saucepan over medium heat until the sugar is completely dissolved. Then bring the mixture up to medium heat and, without stirring, let it sit and boil until it is syrupy and turns a dark caramel color.
Pour the caramel evenly into the bottom of the jars.
For the custard
In a large mixing bowl, mix the egg yolks, evaporated milk and sweetened condensed milk. Once combined, stir in the vanilla.
Pour the mixture through the strainer or a sieve to get rid of any extra egg pieces.
Carefully ladle the custard mix evenly into the jars, on top of the caramel.
Place the pan with the jars into the oven carefully and bake for about 35-45 minutes, until edge is set but a small circle in the center is still a little liquid. Remove the jars from the water and let cool. The flan will continue to set during this time. You can sprinkle a dash of cinnamon on top at this time. This is mostly for decoration.
These can be sealed and chilled and served days later, so they work best as fun gifts for neighbors or friends. These can be eaten from the jar, but they are best if you unmold them from the jar and serve them at room temperature. The best way to do this is by taking a knife and running it around the edges so that the custard comes loose, then turning the jar over onto a plate or bowl.