DIY Gifts
Double Chocolate Muffin Mix
I'm always in the best mood every time that the holidays roll around. There's just something about the Christmas season that inspires me to dive into baking recipes on a near daily basis. I especially love making recipes like this one for a double chocolate muffin mix in a jar. They're great for preparing ahead of time and they just look so cool as a holiday decoration as well.
You'll be preparing enough muffin mix to fill a quart sized jar. You can also print out the recipe tag on some card stock to cut out and add to the jar if you would like. Simply attach the tag to the jar afterwards and then decorate the jar as you wish. I usually just let my kids go nuts with them but you can definitely feel free to opt for a fancier holiday decorative look as well.
Muffin Mix That's Ready To Go Anytime
One of the reasons why this muffin mix looks so cool in the jar is because of the way that you'll be layering in all of the ingredients on top of one another. Aesthetics are important after all, especially when it comes to holiday recipes like this one!
When making the actual muffin mix, you'll need approximately two cups of all purpose flour, a bit of baking soda, salt, baking powder, ¾ cups of unsweetened cocoa powder, one cup of sugar, and finally, one cup of your choice of either milk chocolate chips or dark chocolate chips. I usually use dark chocolate because it's a bit better for your heart health thanks to all of the healthy monounsaturated fats.
Speaking of which, that's another added benefit that using real cocoa powder has as well. It's perfect for baking recipes to give your muffins a deliciously decadent chocolate flavor, while also being packed full of heart healthy fats and disease fighting antioxidants.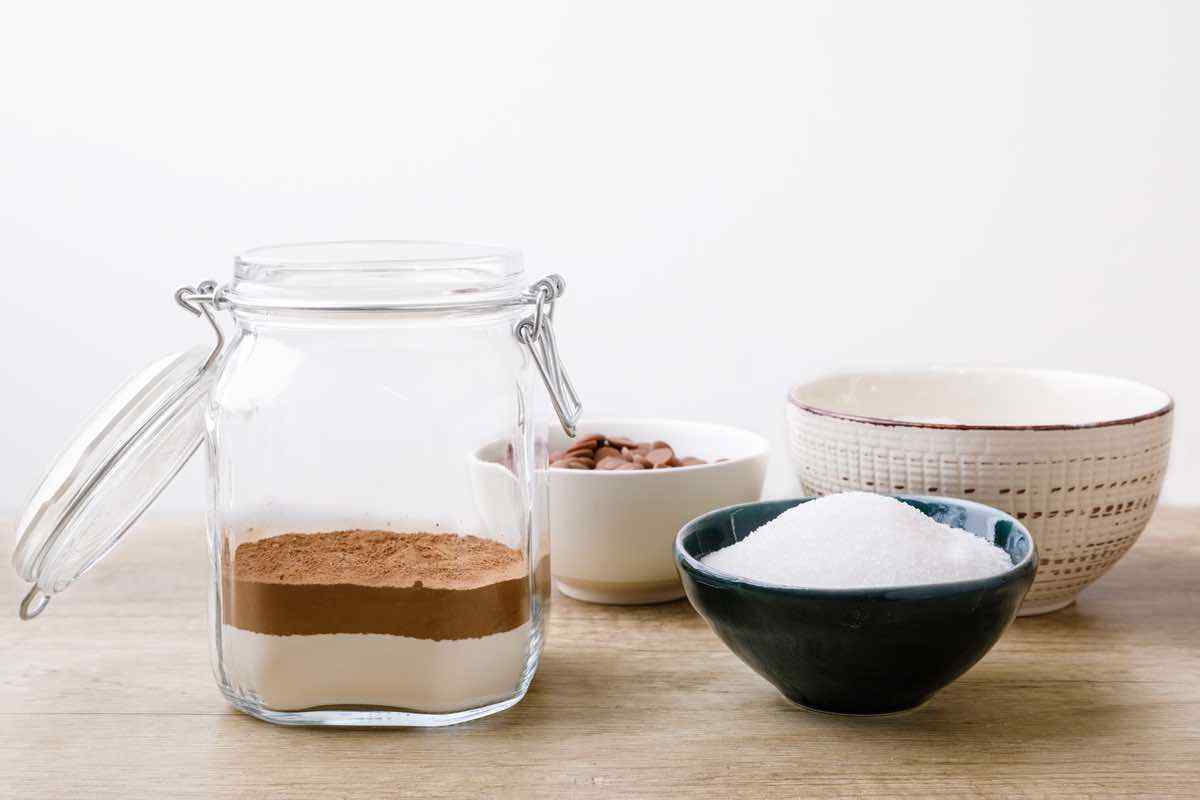 Before you start to layer the ingredients into the jar, you'll first want to mix the flour, salt, baking soda, and baking powder together in a bowl. You can then start adding layers into the jar in the order described below.
Decorate With It Until You're Ready to Bake With It
I usually make up two or three jars of this muffin mix at a time. One batch to bake right away and the rest go into jars to be decorated by the kids. Whenever you're ready to actually bake the muffins, there's just a few extra steps that you'll have to take.
You'll first need to add your entire jar of muffin mix into a large bowl and then mix it to combine. In a separate bowl, combine four ounces of melted butter, two large eggs, and 1 ¼ cup of buttermilk.
Add the muffin mixture in with your wet ingredients and mix them until they're well combined. You can then divide the batter evenly amongst 12 muffin cups before baking them in the oven at 350°F for 20-25 minutes (or until a toothpick comes out clean).
Double Chocolate Muffin Mix
Author: Anna - MissWish.com
Prep Time:

10 minutes

Cook Time:

18 minutes

Total Time:

28 minutes

Yield:

1

2

1

x
Scale
1-quart jar
2 cups all purpose flour
½ tsp baking soda
¼ tsp salt
1 tbsp baking powder
3/4 cups unsweetened cocoa powder
1 cup granulated sugar
1 cup milk chocolate chips or dark chocolate chips
In a bowl mix the flour, salt, baking soda and baking powder.
Layer the ingredients in the following order in a jar:
half of the flour mixture
cocoa powder
rest of the flour mixture
granulated sugar
chocolate chips
Print the recipe tag on card stock and cut out.
Attach the tag to the jar.
Decorate the jar as you wish.
To make the muffins, in a bowl add the entire jar of muffin mix and mix to combine.
In another bowl add 4 oz of melted butter, 2 large eggs and 1 ¼ cup of buttermilk and mix to combine. Add the muffin mix and mix until well blended.
Divide the batter evenly among 12 muffin cups lined with paper liners.
Bake in preheated oven at 350°F for 20-25 minutes or until a toothpick placed in the centre of a muffin comes out almost clean.
Can You Recommend Any Other Baking in a Jar Recipes?
Absolutely! Since I've been on such a huge baking spree lately (and make no mistake, I will continue to be on all throughout the holidays), expect to see quite a few more "in a jar" style holiday recipes rolling out over the coming weeks.
In the meantime, I can absolutely recommend the following recipes from some of my favorite spots around the web:
I highly recommend trying out all of the above recipes. I'm still trying to decide on a favorite myself. Happy holidays everyone!