Easy Recipes
Easy Creamy Chicken Casserole (Great for Families and Leftovers)
There's honestly nothing complicated about making a fantastic homemade chicken casserole dish. You can actually make one using only a handful of simple ingredients like chicken, peas, sour cream, and Ritz crackers of all things. Don't believe me? Then just wait until you try out this recipe for making this incredibly easy creamy chicken casserole. And while I like to add a few extra savory ingredients like garlic, onion, and Cheddar cheese, you can still get away with making this recipe with just a few simple ingredients. This casserole dish is also fantastic when served as leftovers, making it an ideal choice for a meal that you can cook in advance and then have ready to enjoy all week.
The Creamiest Chicken Casserole Ever – And So Easy!
If you're only interested in making this creamy chicken casserole in the easiest way possible, then you'll need to start out by simply adding your chicken breast meat into a large bowl along with one cup of frozen peas, one can of cream of mushroom soup, and one cup of sour cream. I like to add the frozen peas in for two main reasons — they're one of my favorite foods to begin with and they're a good source of antioxidants that may be helpful in preventing certain diseases. (1)
On the other hand, if you'd like to make sure that your casserole is as flavorful as possible, I would recommend adding in a bit of chopped onion and garlic cloves as well. I use garlic and onion in TONS of my recipes, and it's all because of the immense amount of flavor they provide. On top of that, they're incredibly good for you, with research indicating that they're also quite useful in helping to prevent cancer. (2)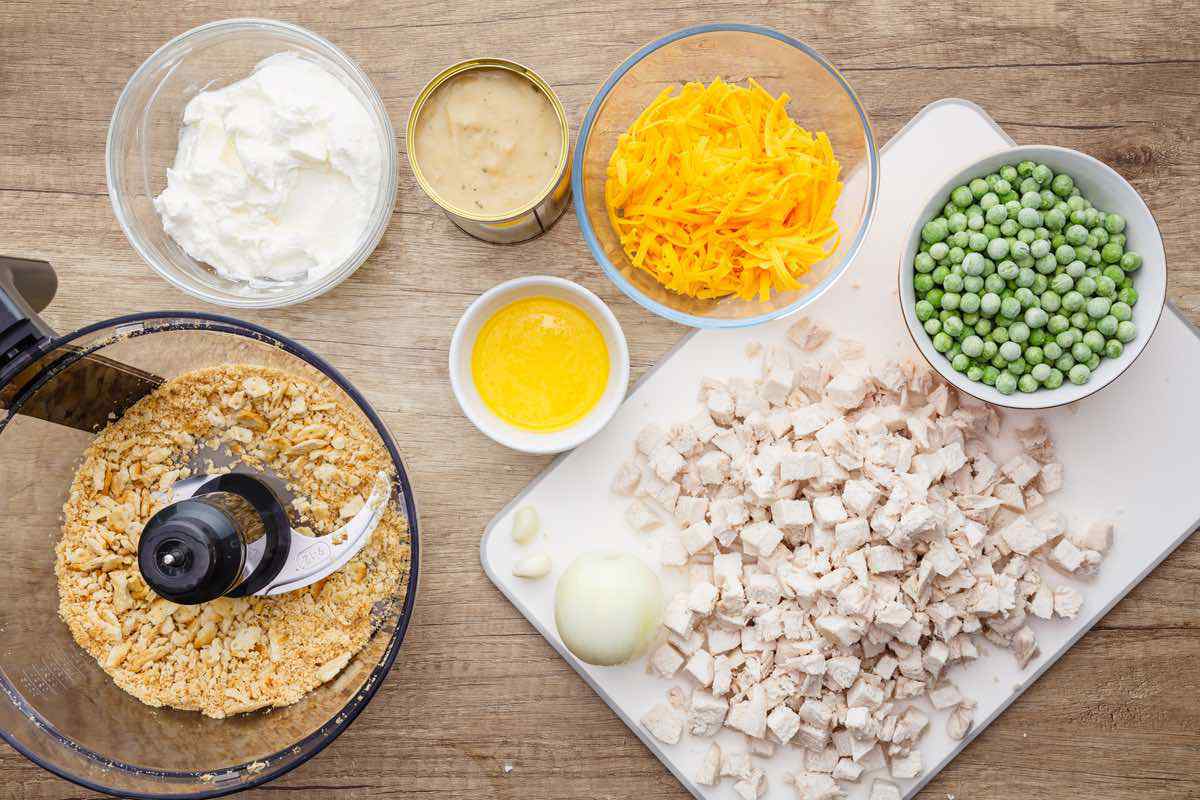 After mixing all of your ingredients together, season it with a bit of salt and pepper before transferring it all into a large baking dish. At this point, you can feel free to add yet another optional ingredient in the form of one cup of shredded Cheddar cheese. I strongly recommend you do so — it adds even more flavor to the casserole along with a solid amount of added protein and saturated fat.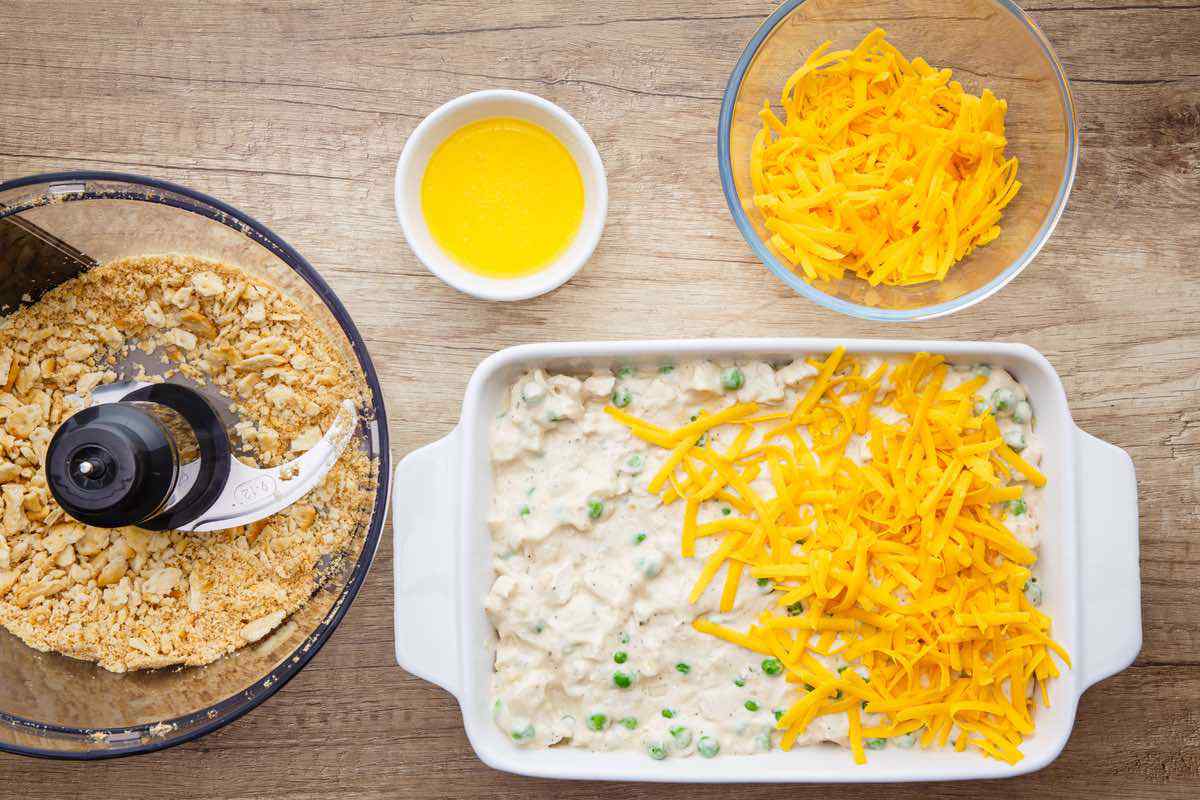 Next, you'll want to top the mixture with one cup of shredded Ritz crackers (I love Ritz crackers to begin with so it only made sense to use them in a delicious casserole recipe!) and ¼ cup of melted butter. If I could make yet another recommendation, it would be that you use grass-fed butter when making this recipe — as well as any of our other recipes that call for butter. Compared to grain-fed butter, it's a much better source of heart healthy omega-3 fatty acids and antioxidants. (3)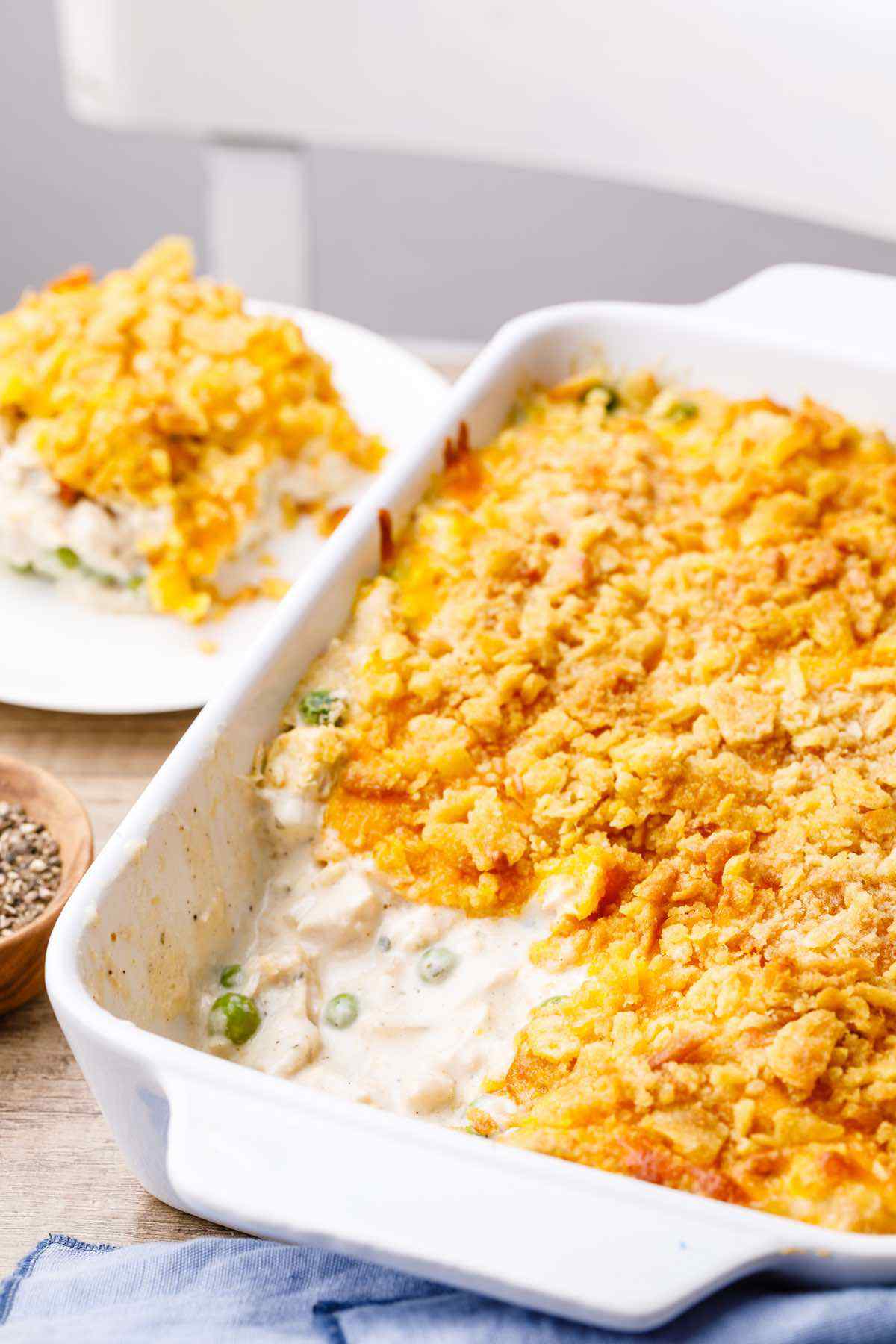 All that's left to do is simply bake your casserole in the oven at 350°F for 25-30 minutes, just long enough for the casserole to be bubbly and have the crumbs turn golden brown. Pull it out of the oven whenever that happens, allow it to cool off slightly, and then get ready to enjoy one deliciously creamy chicken casserole!
P.S. – If you're in need of a few more healthy chicken dinner ideas just like this one, then I have even more recommendations for you! Here are two of my favorite meals to make whenever I want to enjoy a wholesome family dinner:
Easy Instant Pot Shredded Chicken for Taco Night
Instant Pot Chicken Noodle Soup
Easy Creamy Chicken Casserole
Author: misswish.com
Prep Time:

15 minutes

Cook Time:

25 minutes

Total Time:

40 minutes

Yield:

6

-8

1

x
Scale
4 cups cooked chopped or shredded chicken breast meat
1 cup frozen peas
½ small onion, chopped (optional)
2 garlic cloves, minced  (optional)
1 can (10.75 oz) cream of mushroom soup
1 cup sour cream
1 cup shredded Cheddar cheese (optional)
1 cup crushed Ritz crackers
¼ cup butter, melted
salt, black pepper to taste
Preheat oven to 350°F.
In a large bowl, place the chopped chicken, peas, onion and garlic (if using), mushroom soup, sour cream and mix to combine.
Season to taste with salt and black pepper.
Transfer the mixture into a large baking dish.
Top the mixture with shredded Cheddar cheese (if using).
Top with crashed crackers and drizzle with melted butter.
Bake in preheated oven for 25-30 minutes or until crumbs are golden brown and casserole is hot and bubbly.
Serve warm.