DIY Gifts
Easy Chocolate Chunk Cookie Mix
I know I can't be the only one who goes mad on a holiday baking spree every year when Christmas rolls around. There's just something about the holidays that puts me in such a festive spirit. I love every part of it… the children's excitement, the lights and decorations, the spirit of generosity in the air… and oh yes, the sweet, sweet holiday baking recipes which means it's time for my spectacular chocolate chunk cookie mix!
Today I'm going to be sharing a recipe for cookie mix in a jar that will transform the way you look at these "quick bake" recipes. You'll start out by filling a quart sized jar with most of the ingredients that you'll need for making the cookies. Afterwards, you can print out the recipe down below on card stock in order to attach the tag to your jar before decorating it for the season.
Homemade Cookies That Are Good For The Soul (& Your Heart!)
There are two smart ingredient choices used in this recipe that I absolutely love. The first is that the recipe calls for the use of dark chocolate for the cookie chunks. Dark chocolate is actually a far healthier choice than milk chocolate.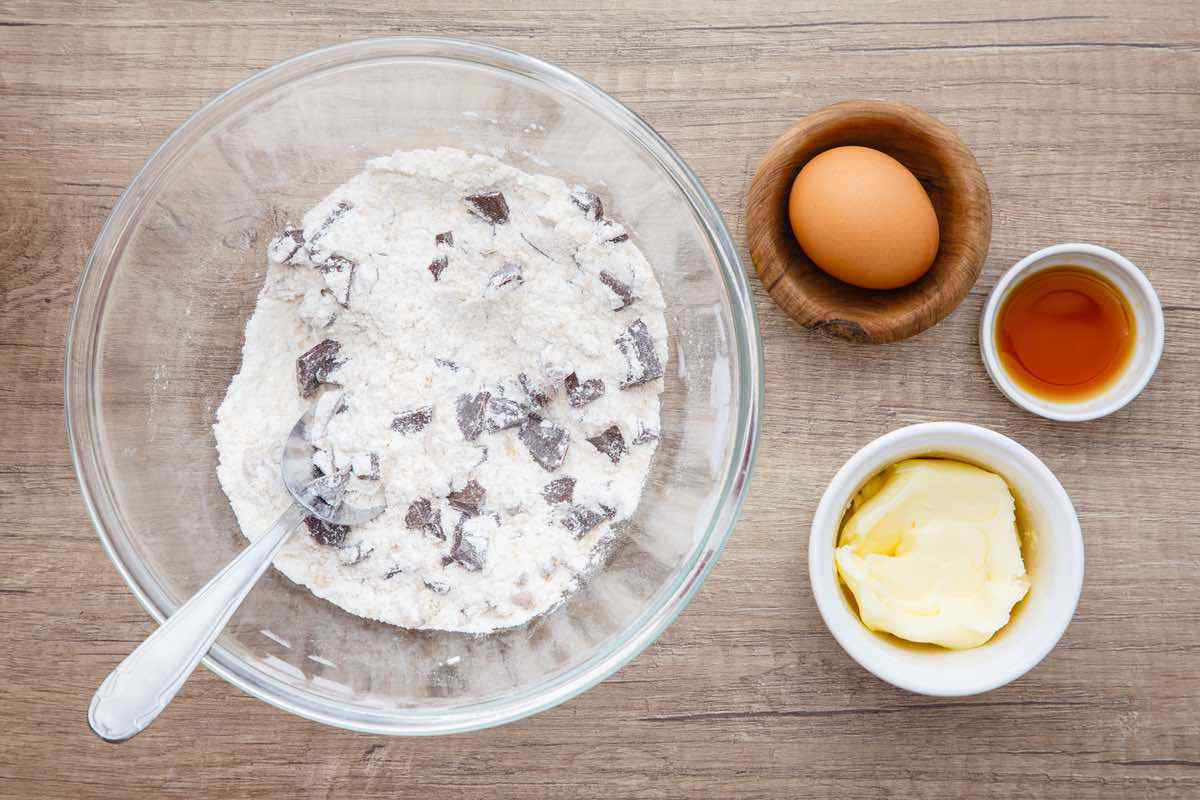 It contains higher amounts of monounsaturated fatty acids, the type of healthy fat that is known to help keep heart disease at bay. In addition, dark chocolate is packed full of beneficial antioxidants and other compounds.
The recipe also calls for ½ cup of your choice of either chopped walnuts or pecans. I love both options for pretty much the same reason I love the addition of dark chocolate in this recipe because not only are they packed full of heart healthy fats that help to keep your cholesterol and blood pressure levels under control, but they're also a solid source of dietary fiber, protein, and other essential nutrients.
The Most Wonderfully Addictive Holiday Cookies
Whenever you're ready to actually bake these chocolate chunk cookies, you'll first need to add the entire jar of cookie mix into a large bowl. Combine it with a separate mixture of softened butter, pure vanilla extract, and a single large egg.
Once everything is well blended, you can then drop the cookie mix by rounded tablespoon onto your prepared baking sheet. Throw them in the oven at 350°F for 8-10 minutes and then get ready. Once the scent of these cookies baking fills your home, you won't be able to keep your family away from them!
Can I Use Another Kind of Nut When Making This Recipe?
If you're not a fan of either pecans or walnuts, you can definitely safely swap them out for your preferred nut of choice or leave them out altogether if you would rather that as well.
Two great alternative options are either chopped raw almonds or cashews. They're both quite similar to pecans and walnuts–plenty of healthy fats, fiber, protein, and essential vitamins and minerals. So if you prefer the taste of almonds or cashews (or any other similar type of nut), then feel free to go with that instead.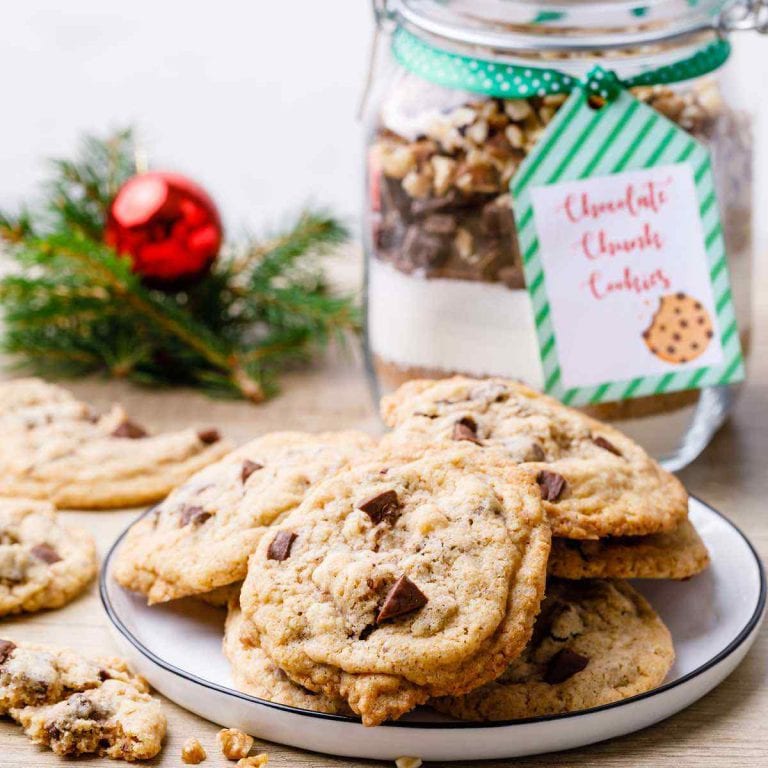 Easy Chocolate Chunk Cookie Mix
Author:
Prep Time:

10 minutes

Cook Time:

10 minutes

Total Time:

20 minutes

Yield:

1

8

1

x
Scale
1-quart jar
1 ¼ cup all purpose flour
¼ tsp salt
½ tsp baking soda
1/3 cup granulated sugar
½ cup brown sugar
1 cup dark chocolate chunks
½ cup chopped walnuts or pecans
In a bowl mix the flour, salt and baking soda.
Layer the ingredients in the following order in a jar:
half of the flour mixture
brown sugar
rest of the flour mixture
granulated sugar
dark chocolate chunks
walnuts
Print the recipe tag on card stock and cut out.
Attach the tag to the jar.
Decorate the jar as you wish.
To make the cookies, in a bowl add the entire jar of cookie mix and mix to combine.
In another bowl add 2/3 cup of softened butter, 1 large eggs and 2 teaspoons of vanilla extract and mix to combine.
Add the cookie mix and mix until well blended.
Drop by rounded tablespoon onto a baking sheet lined with parchment paper.
Bake in preheated oven at 350°F for 8-10 minutes.
Can You Recommend Any Other Holiday Baking Recipes?
As great as these chocolate chunk cookies are, it's always good to have a bit of variety in life, especially when it comes to baking! With that in mind, you guys should definitely check out some of these holiday themed baking recipes from some of my favorite sites around the web: