Easy Recipes
Candy Cane Cookies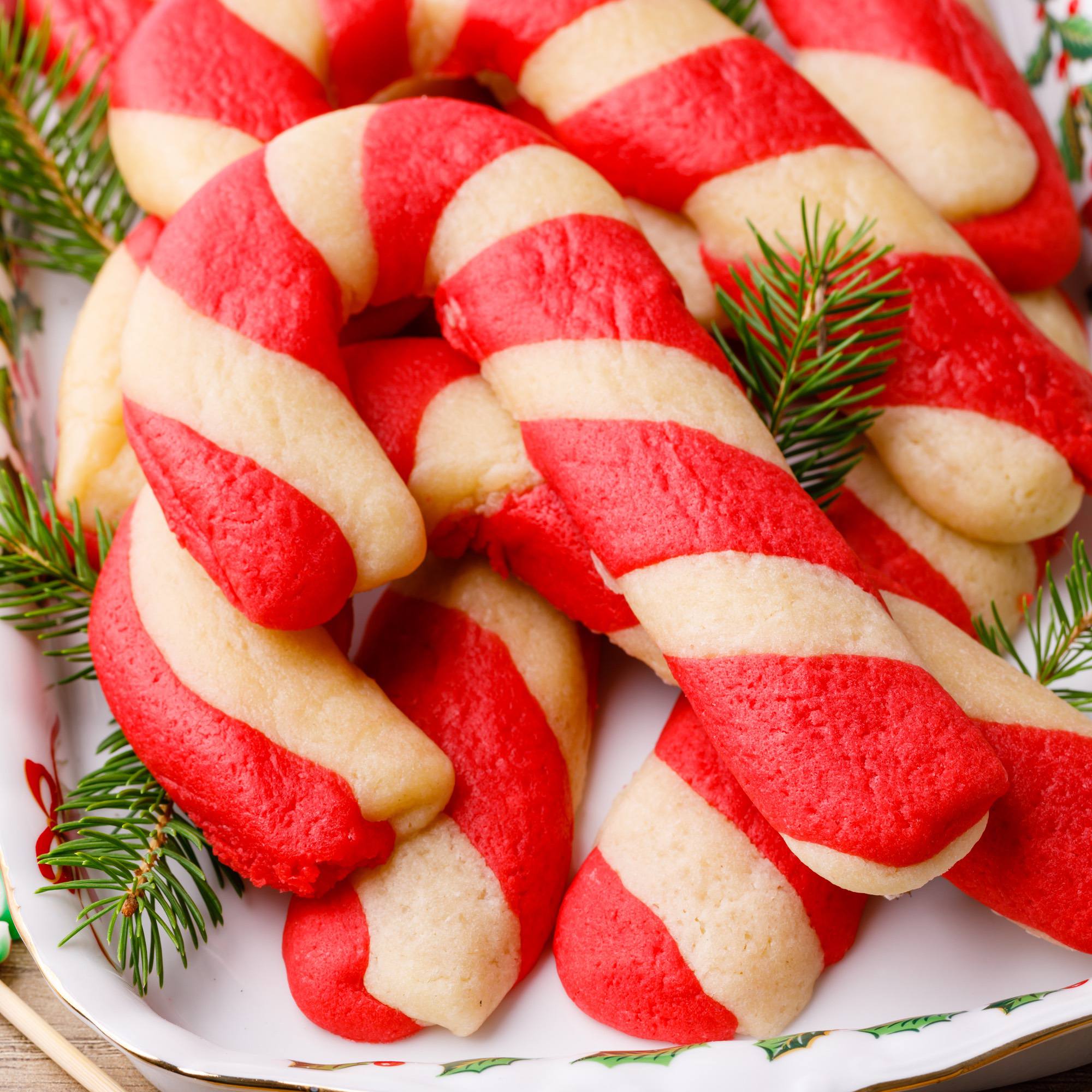 If you're looking for a cute christmas cookie, try this candy cane cookie recipe! A yummy holiday sugar cookie that is so fun to make.
These Candy Cane Cookies are as irresistible as they come and make a great addition to holiday gatherings. The beautiful red and white ropes of buttery dough are the ideal treat to spice up dinner parties at home.
Give them a try this season; your guests will absolutely adore these.
How to Store Candy Cane Cookies
If you want your sugar cookies to stay soft, store them in an airtight container in the refrigerator with a slice of bread in the container with it. The slice of bread is a neat trick to help keep the cookies moist and soft.
You can also freeze these Candy Cane Cookies in an airtight container for 2 to 3 months.
Candy Cane Cookies
Author: Anna Young
Prep Time:

60 minutes

Cook Time:

10 minutes

Total Time:

1 hour, 10 minutes

Yield:

18

cookies

1

x
Category:

Dessert

Cuisine:

American
Scale
1 cup

unsalted butter, at room temperature

1 cup

powdered sugar

1

large egg

1 tsp

vanilla extract

1 tsp

peppermint extract

3 cups

all-purpose flour

½ tsp

salt

red gel food coloring
In a large bowl beat together the butter and sugar. 

Add in the vanilla extract, peppermint extract, egg and salt and beat until smooth. 

Add the flour and mix until just combined. 

Divide the dough into two bowls. 

Add a few drops of red coloring to one bowl. 

Mix to combine. 

Pat both pieces of dough into 1-inch thick circles and wrap each in plastic wrap. 

Refrigerate for minimum 2 hours. 

When ready to bake, preheat oven to 375ºF. 

Line a baking sheet with parchment paper. 

Pull off 2 tablespoons of red dough and 2 tablespoons of white dough.  

Roll each into a thick rope about 6 inches long.

Place the two ropes side by side.

Pinch them together at the top then gently twist them together.

Place the twisted ropes on the prepared baking sheet. 

Gently bend the top into a hook. 

Refrigerate the cookies for 15 minutes before baking. 

Bake in preheated oven for 10-12 minutes. 

Remove from the oven and allow to cool completely before serving. 
Notes
Why Did My Candy Cane Cookies End Up Dry and Crumbly?

If your Candy Cane Cookies ended up dry and crumbly, it's possible that they were left in the oven for too long. Make sure to take out the Candy Cane Cookies after 10-12 minutes, don't turn off the oven and leave them inside. If you did take them out on time, it's possible your oven just runs hotter than others, so you can reduce the baking time to 8-9 minutes. 
Once the edges are golden brown, you'll know your Candy Cane Cookies are ready. 
Another reason why Candy Cane Cookies can end up dry and crumbly is because there is not enough fat in the recipe. Fat helps to moisten and bind the ingredients together, which prevents the cookies from becoming too dry. Be sure to use the right amount of full-fat butter in this recipe instead of butter substitutes or low-fat butters.
Keywords: Candy Cane Cookies