Easy Recipes
The Best Red Sangria Recipe Ever (Easy Recipe!)
I think I mentioned in a previous post that I much prefer white sangria over red, however that doesn't mean I don't have a handful of fantastic red sangria recipes in my roster. This is the best red sangria recipe I've made in a while, thanks to the fresh fruit and of course, the Spanish wine that I saved just for this occasion.
In order to make this red sangria, you'll need one medium peach, one medium apple, one medium orange, brown sugar, orange juice, brandy, and a single 750 ml bottle of a dry Spanish red wine. Add everything into a large pitcher, cover it with a plastic wrap, and leave it to chill for at least one hour in the fridge before you serve it.
Who Doesn't Love Sangria?
Even though I usually stick to white sangrias, I had briefly mentioned keeping a repertoire of top notch red recipes on hand. I wasn't kidding when I said that, which is why I wanted to share five more red sangria recipes that you're sure to enjoy. Each of these recipes comes from one of my favorite food or drink blogs from around the web, so you can rest assured that they're all every bit as good as mine:
Do Sangria Recipes Usually Incorporate Other Types of Alcohol Like Brandy?
Yes, sangria recipes commonly include other types of alcohol besides red (or white) wine. I usually like to keep my sangria recipes as basic as possible, so I typically only make recipes that use wine alone, with the occasional recipe that also includes a bit of brandy.
However, you can make sangria with just about any type of alcohol that you would like. I've seen sangria recipes that are made with everything from flavored vodka to Jamaican rum to Triple Sec.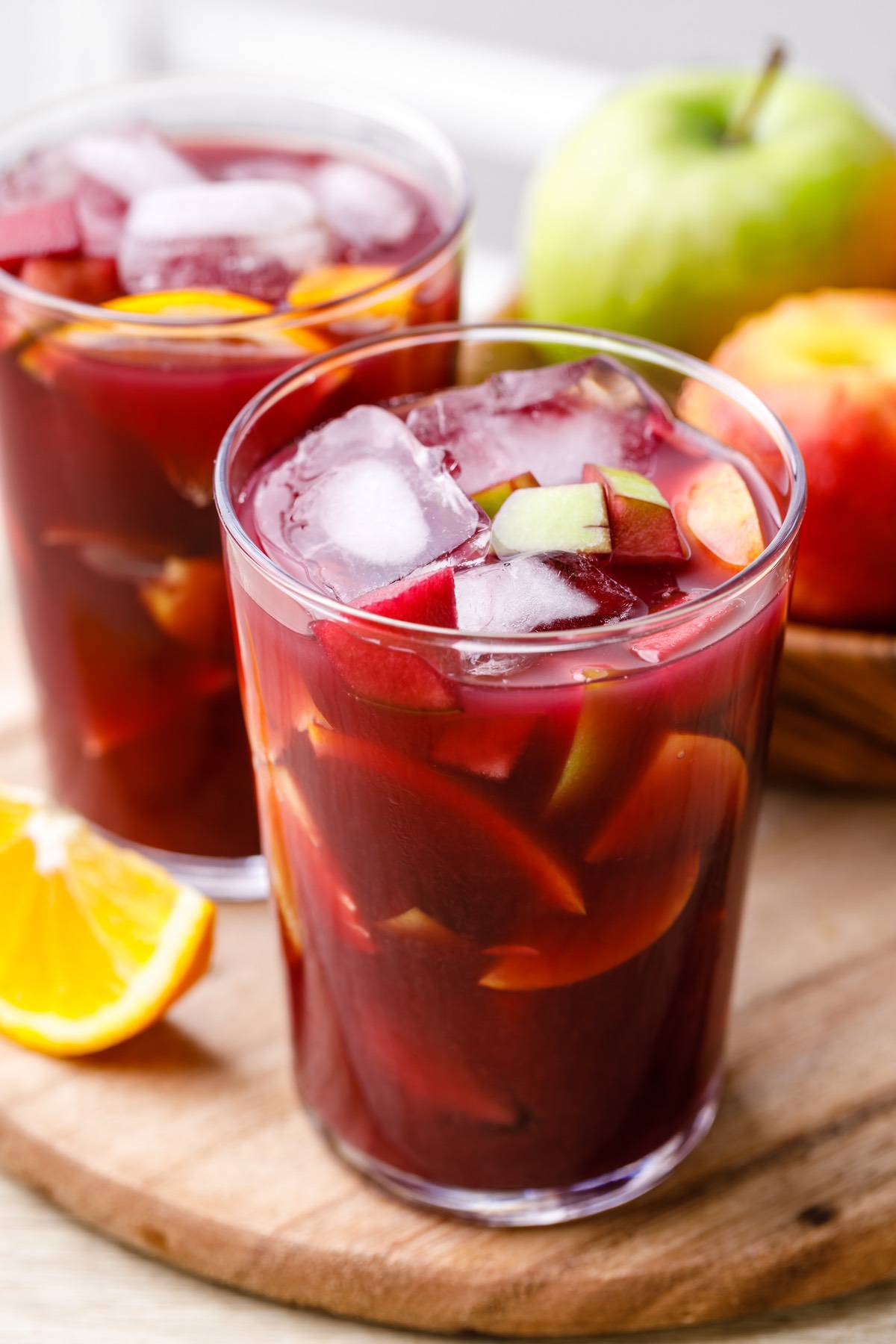 How Long Does This Sangria Keep in the Fridge?
Sangria can stay good in the fridge for several days as long as you cover the top of your pitcher with either an airtight lid or a plastic wrap covering.
Some people claim that sangria can last for up to one week in the fridge, but I personally wouldn't leave it stored for more than 3 or 4 days.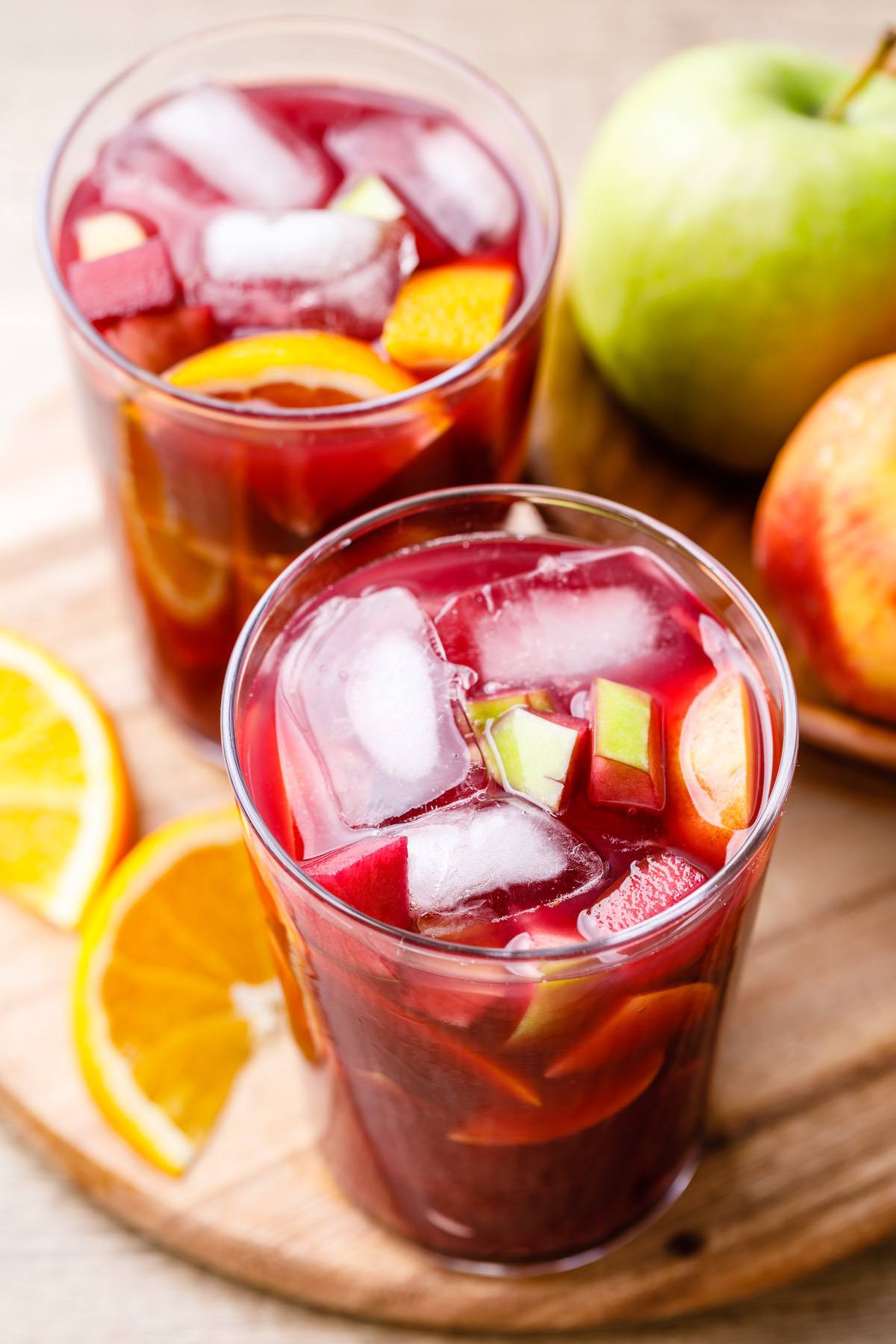 Do I Need to Chill Sangria Before Serving?
Yes, you're going to have to chill your sangria before serving. It's always recommended that you chill both white and red sangria for a minimum of at least one hour before serving. To chill my sangria faster, I like to store my fruit in the refrigerator so they're nice and chilled by the time I chop them.
(You may also like: The Best Red Sangria Recipe Ever (Easy Recipe!))
The Best Red Sangria Recipe Ever (Easy Recipe!)
Scale
1

medium peach, sliced 

1

medium apple, cored and chopped into small pieces)

1

medium orange, sliced 

¼ cup

brown sugar or to taste 

3/4 cup

orange juice

1/3 cup

brandy

1

(750 ml) bottle dry Spanish red wine
In a large pitcher combine the orange juice, brandy and sugar. 

Add the peach, apple, orange and red wine. 

Stir well.

Cover with plastic wrap.

Let chill in refrigerator for at least one hour. 

Serve over ice.