Easy Recipes
Almond Flour Blueberry Muffins for Kids (Paleo-Friendly)
Breakfast will never be the same again. Our low-carb, paleo-friendly blueberry muffins for kids are a real game changer. Living a Paleo lifestyle means that you don't rely on refined carbs or processed foods to feed your children. Whole grains and a focus on protein and healthy fats are what it's all about. This recipe follows the paleo guidelines and provides your children with all the energy they need during the morning. They taste heavenly too! There's no reason to feel guilty when you slip these delicious muffins onto your kid's breakfast plate. Healthy and nutritious, these delectable delights pack a nutrition powerhouse into every bite.
Magical Muffin Mix Without the Refined Carbs
Start this recipe by purchasing your ingredients at the local health food store. Almond flour is an excellent, low-carb, replacement for traditional refined white flour. White flour creates gastrointestinal distress and spurs inflammation of the intestinal wall. This inflammation can lead to the development of "leaky gut syndrome," in people with sensitivity to gluten. (1)
Source your eggs from a farmer's market. Free-range eggs are an entirely different food product compared to eggs laid by hens at commercial hen farms.
Chickens reared on free-range farms have space to run around, and finished on a grain diet, that doesn't include corn. The result is a tastier egg with a dark, orange yolk, not a lifeless-yellow yolk you'll see in most commercially farmed chicken eggs.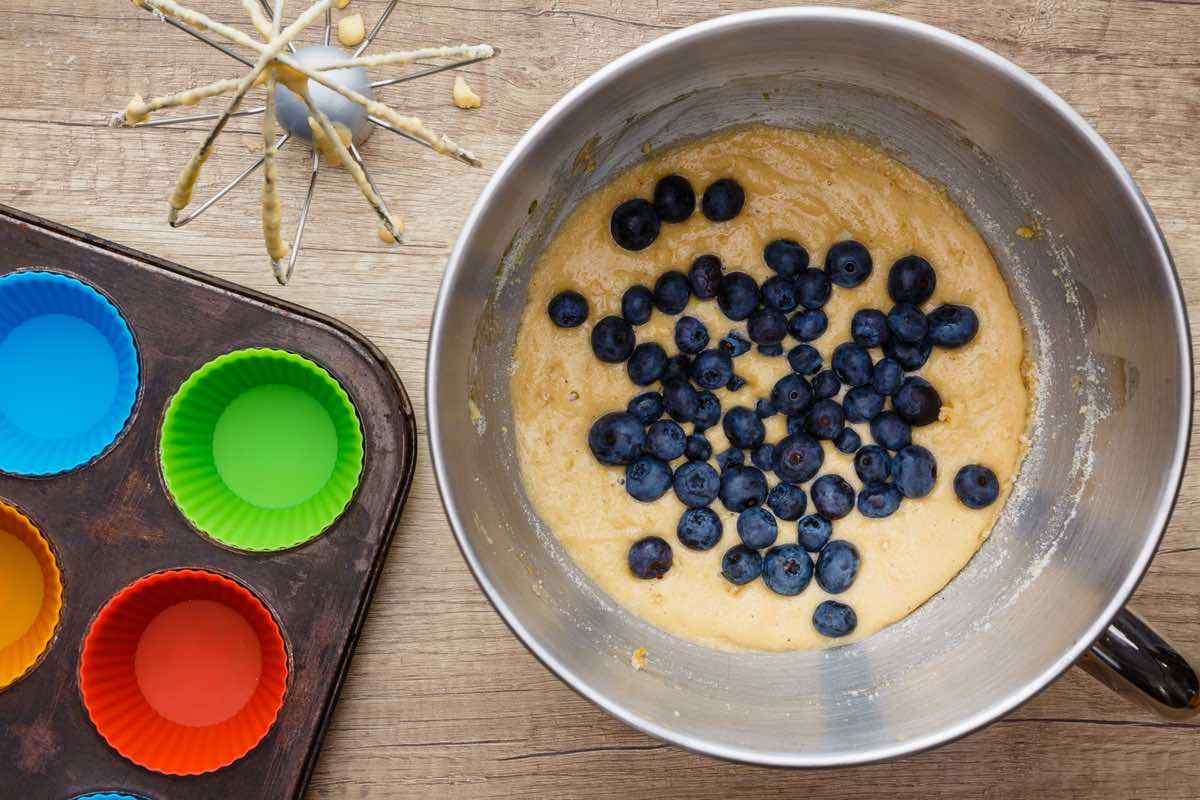 Raw, unpasteurized honey is another essential ingredient for this recipe. Raw honey has no filtering, so it retains the live probiotic and prebiotic enzymes found in the royal jelly from the honeycomb. Its higher in vitamins and minerals than the store-bought brands, and you can expect it to have a lower GI value as well. (2)
Finish off your ingredients with the crux of the recipe – fresh blueberries. These purple morsel of goodness come packed with polyphenol antioxidants, vitamins, and minerals.
Preparing the batter is the most crucial task in this recipe. You're aiming for reasonably stable consistency, similar to gluey paste, don't let it get to thin or your muffins won't rise properly. Combine the almond flour, baking soda, nutmeg, and salt in a medium mixing bowl. In a separate bowl, add the eggs, honey, and vanilla extract, whisk or blend until light and fluffy.
Add the mixtures to each other in the mixing bowl until you achieve an even consistency and then fold in the blueberries. Add the batter into muffin cups and stick them in the oven at 350F for 20 to 25-minutes, or until you can pass a toothpick cleanly through the muffins.
The muffins are great served warm, or cold out of the fridge. Serve them warm at the breakfast table, or pack them into your kid's lunchbox for a wholesome, low-carb, break-time meal.
View More Healthy Breakfast Ideas for Kids:
How to Make the Best Family-Friendly Keto Breakfast Casserole
Healthy Breakfast Casserole for a Balanced Family Breakfast
5-Minute Nutrient-Dense Breakfast Smoothie for Busy Families
How to Make the Most Perfectly Cooked Instant Pot Hard Boiled Eggs
Healthy Homemade Pancakes to Fuel Your Kids Body (And Mind)
How to Make Kid-Friendly French Toast That's Not Packed with Sugar
Almond Flour Paleo Blueberry Muffins for Kids
Author: misswish.com
Prep Time:

15

Cook Time:

20

Total Time:

35 minutes
Scale
2 cups

almond flour

½ tsp

baking soda
pinch of salt

¼ tsp

nutmeg

1/3 cup

honey

2

eggs

3 tbsp

melted coconut oil

1 tsp

vanilla extract

3⁄4 cup

fresh blueberries
Preheat oven 350°F.
Wash the blueberries and gently pat dry with kitchen towel. Set aside.
Line 9 muffin cups with paper liners or silicone cupcake liners.
In a bowl combine the almond flour, salt, nutmeg and baking soda. Set aside.
In the bowl of a stand mixer fitted with the whisk attachment beat the eggs and honey until pale and fluffy, about 3-5 minutes.
Add the melted coconut oil and vanilla extract and beat until well combined.
Add in the almond flour mixture and mix until smooth.
Gently fold in the blueberries.
Scoop the batter into the prepared muffin cups.
Bake in preheated oven for 20-25 minutes or until a toothpick inserted into the center comes out clean.
Remove from the oven and allow to cool completely before serving.